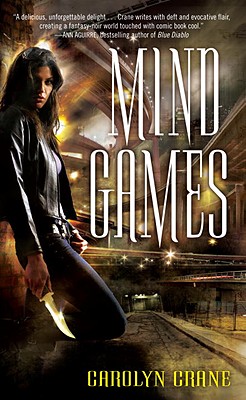 Mind Games (Disillusionists #1) (Paperback)
Spectra, 9780553592610, 384pp.
Publication Date: March 23, 2010
Other Editions of This Title:
MP3 CD (8/16/2016)
* Individual store prices may vary.
Description
JUSTINE KNOWS SHE'S GOING TO DIE. ANY SECOND NOW.
 
Justine Jones has a secret. A hardcore hypochondriac, she's convinced a blood vessel is about to burst in her brain. Then, out of the blue, a startlingly handsome man named Packard peers into Justine's soul and invites her to join his private crime-fighting team. It's a once-in-a-lifetime deal. With a little of Packard's hands-on training, Justine can weaponize her neurosis, turning it outward on Midcity's worst criminals, and finally get the freedom from fear she's always craved. End of problem.

Or is it? In Midcity, a dashing police chief is fighting a unique breed of outlaw with more than human powers. And while Justine's first missions, including one against a nymphomaniac husband-killer, are thrilling successes, there is more to Packard than meets the eye. Soon, while battling her attraction to two very different men, Justine is plunging deeper into a world of wizardry, eroticism, and cosmic secrets. With Packard's help, Justine has freed herself from her madness—only to discover a reality more frightening than anyone's worst fears.
About the Author
CAROLYN CRANE lives in Minneapolis with her handsome husband and two daring cats. She enjoys reading and running and loves animals of all kinds. For more than a decade she's made her living as a freelance writer. This is her first novel, and the first book in The Disillusionists Trilogy.
Praise For Mind Games (Disillusionists #1)…
"Wow! Crane's writing style brings to mind old-school noir, with the compelling attitude of superheroes from a graphic novel. A masterful blend of dark and light, good and bad and all the grays in between, it will draw readers thoroughly into her tale, as they root for the good guys—while trying to figure out just who the good guys are. The ending promises more adventures, and that is a very good thing." 4.5 stars—Romantic Times
 
"With a twisty, edgy storyline, a unique premise and a fascinating heroine, Mind Games jumpstarts a smart and original urban fantasy series. A fabulous debut!"—Meljean Brook, The Guardians series
 
"Carolyn Crane writes with deft and evocative flair, creating a fantasy-noir world touched with comic book cool. With a twisty plot, a unique heroine, memorable supporting characters, and an amazingly fresh premise, debut novel Mind Games is a delicious, unforgettable delight. I can´t wait for the next book!"—Ann Aguirre, author of Blue Diablo
  
"Carolyn Crane's debut novel is a brilliant original in every way.  Just when I think that urban fantasy heroines are becoming too clichéd and predictable, Mind Games blows me out of the water with its unique premise.  Justine does not wield a katana, or ride a Harley, or kick like a ninja.  Instead she fights with her mind, and speaking as a nerd myself, I find that concept oh so sexy."—dirtysexybooks.com

"Mind Games is a violent U-Turn in a fresh direction, signaling the dynamic and welcome arrival of both Carolyn Crane and the most unique urban fantasy heroine I've seen on page in a long while, Justine Jones. And like Justine, Midcity is brightly imagined, beautifully dangerous, and perfectly flawed. Flashy and stylish, this is urban fantasy's new shot-in-the-arm." — Vicki Pettersson, New York Times Bestselling author of Cheat the Grave

"Masterful worldbuilding, sly humor, and fantastically quirky characters. I can't say enough good things about this book. I loved, loved, loved it. A+" — Jill Sorenson, author of Set the Dark on Fire


or
Not Currently Available for Direct Purchase