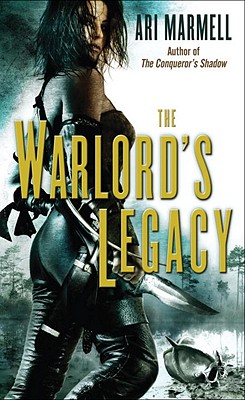 The Warlord's Legacy (Mass Market Paperbound)
Spectra Books, 9780553593167, 374pp.
Publication Date: December 27, 2011
* Individual store prices may vary.
or
Not Currently Available for Direct Purchase
Description
In his trademark suit of black armor and skull-like helm, armed with a demon-forged axe, Corvis Rebaine twice brought death and destruction to Imphallion willingly slaughtering countless innocents in pursuit of a more just society. But that was the old Rebaine. Before he killed the mad warlord Audriss and banished the demon Khanda. Before he lost his wife and children, who could not forgive or forget his violent crimes.
Now, in a distant city, under a false name, Rebaine is loathe to resurrect his bloody ways, even when the neighboring nation of Cephira invades his beloved Imphallion. But when an imposter takes up the legendary armor and axe, and sets about killing more ruthlessly than Rebaine ever did, the old warrior may have no choice. Pursued by an old nemesis, a mysterious sorcerer, and his own vengeful daughter, Rebaine moves to clear his name, save his country, and reclaim his family. To accomplish these tasks, will he once again have to become the Terror of the East ?
About the Author
Ari Marmell has an extensive history of freelance writing, which paid the bills while he worked on improving and publishing his fiction. He has published a fair amount of shared-world fiction, including several short stories and Agents of Artifice, a Magic: The Gathering novel. The Conqueror s Shadow was his first wholly original published book. Marmell lives in Austin, Texas, with his wife, George, and two cats."
Praise For The Warlord's Legacy…
Praise for The Warlord's Legacy
"The sequel to The Conqueror's Shadow fills a vital niche in the fantasy adventurer genre, one occupied by the heroes of Michael Moorcock's Elric Melniboné novels and C.S. Friedman's Coldfire Trilogy." –Library Journal

"The action is well-paced and there are some delightfully sinister moments." --Newark Star-Ledger

Praise for Ari Marmell's The Conqueror's Shadow
 
"A powerful fantasy, with well-drawn heroes and delightfully wicked, complicated villains."—Paul S. Kemp, author of The Erevis Cale Trilogy
 
"Superior storytelling and deft dialogue . . . filled with dark humor as well as scenes of brutal battle and high magic."—Library Journal
 
"A great mix of character and action."—Robin Hobb, author of Dragon Keeper
 
"This action-packed, morally gray fantasy has an intriguingly twisty plot, full of magic and political intrigue."—Booklist
 
"Ari Marmell has a remarkable flair for the sinister."—Scott Lynch, author of The Lies of Locke Lamora
Advertisement