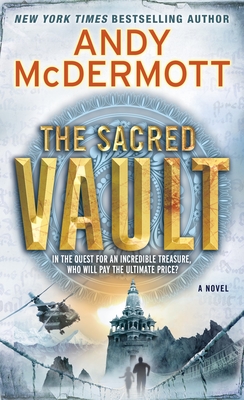 The Sacred Vault (Mass Market Paperbound)
Bantam, 9780553593648, 500pp.
Publication Date: March 22, 2011
Description
A DARING HEIST.
A PRICELESS ARTIFACT.
A SECRET LOCKED SAFELY AWAY UNTIL NOW.
When Michelangelo's David is stolen from its museum in Florence, it's only the latest in a series of audacious raids on the world's greatest treasures. But American archaeologist Nina Wilde and her husband, ex-mercenary Eddie Chase, discover the raiders ultimate target when the Talonor Codex a cryptic travel journal that Nina found in Atlantis is snatched from a well-guarded exhibition right in front of their eyes.
The codex holds clues to the location of the Vault of Shiva and its mythical contents: the chronicles of the ancient Hindu god of destruction himself. From a deadly shootout in San Francisco to a hidden valley in the snowbound Himalayas, Nina and Eddie must run a labyrinthine gauntlet of ruthless killers, corrupted faiths, and twisted ambitions to reach the sacred vault ahead of a cunning billionaire with a plot to remake the world after he brings this one crashing down.
About the Author
Andy McDermottis a former journalist and movie critic who now writes novels full-time following the international success of his debut thriller, The Hunt for Atlantis, which has been sold around the world in more than twenty languages. He is also the author ofThe Tomb of Hercules, The Secret of Excalibur, The Covenant of Genesis, The Pyramid of Doom, The Sacred Vault, Empire of Gold, Return to Atlantis, The Valhalla Prophecy, andThe Shadow Protocol. He lives in Bournemouth, England."
Praise For The Sacred Vault…
"No fan of Indiana Jones, Matthew Reilly or action in general will be able to put it down." —Northern Territory News, on The Pyramid of Doom
 
"Raises the bar to please adventure junkies who prefer to mainline their action."—Publishers Weekly (starred review), on The Hunt for Atlantis
Advertisement