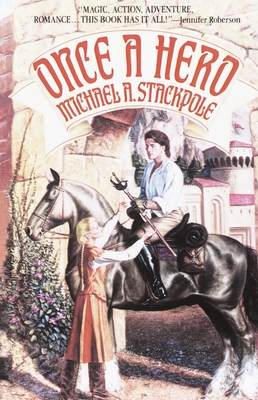 Once a Hero (Paperback)
A Fantasy Novel
Spectra, 9780553762792, 528pp.
Publication Date: April 1, 1994
* Individual store prices may vary.
Description
A rousing adventure of mystery and magic, in the best tradition of Robert Jordan and David Eddings, by one of the most exciting and imaginative voices in fantasy

A LEGEND COME TO LIFE

Half a millennium ago Neal Elfward, a legendary human warrior, fought alongside his Elven friend Aarundel for the freedom of mankind against the tyranny of the sorceress Reithrese's empire. But Neal's victory began a genocidal war that cost him dearly. Now the future he hoped for is unraveling. Count Berengar has invited the lovely Genevera, Aarundel's granddaughter, to join in a quest to bring stability to the land. Pressed to accomplish the impossible, Genevera suggests the unthinkable—raising Neal from the dead. But what is true in legend is not always true in reality. A hero from yesteryear may be a hero still, but is Neal the hero they want?

Praise for Once a Hero

"Magic, action, adventure, romance . . . This book has it all!"—Jennifer Roberson

"A magnificent tale! A page turner."—Dennis L. McKiernan
About the Author
Michael A. Stackpole is the New York Times bestselling author of many titles in the Star Wars universe, including many of the Star Wars X-Wing novels and the New Jedi Order: Dark Tide novels Onslaught and Ruin. When not chained to a desk madly fighting deadlines, he plays indoor soccer, rides a mountain bike, and reads, but not all at the same time. Stackpole lives in Arizona with Liz Danforth and a small pack of Cardigan Welsh corgis.