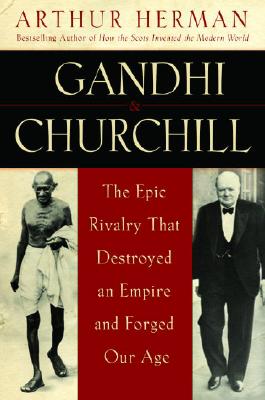 Gandhi & Churchill
The Epic Rivalry that Destroyed an Empire and Forged Our Age
Hardcover

* Individual store prices may vary.
Other Editions of This Title:
Digital Audiobook (9/25/2008)
Paperback (4/28/2009)
Paperback (9/1/2009)
Description
In this fascinating and meticulously researched book, bestselling historian Arthur Herman sheds new light on two of the most universally recognizable icons of the twentieth century, and reveals how their forty-year rivalry sealed the fate of India and the British Empire.

They were born worlds apart: Winston Churchill to Britain's most glamorous aristocratic family, Mohandas Gandhi to a pious middle-class household in a provincial town in India. Yet Arthur Herman reveals how their lives and careers became intertwined as the twentieth century unfolded. Both men would go on to lead their nations through harrowing trials and two world wars—and become locked in a fierce contest of wills that would decide the fate of countries, continents, and ultimately an empire.

Gandhi & Churchill reveals how both men were more alike than different, and yet became bitter enemies over the future of India, a land of 250 million people with 147 languages and dialects and 15 distinct religions—the jewel in the crown of Britain's overseas empire for 200 years.

Over the course of a long career, Churchill would do whatever was necessary to ensure that India remain British—including a fateful redrawing of the entire map of the Middle East and even risking his alliance with the United States during World War Two.

Mohandas Gandhi, by contrast, would dedicate his life to India's liberation, defy death and imprisonment, and create an entirely new kind of political movement: satyagraha, or civil disobedience. His campaigns of nonviolence in defiance of Churchill and the British, including his famous Salt March, would become the blueprint not only for the independence of India but for the civil rights movement in the U.S. and struggles for freedom across the world.

Now master storyteller Arthur Herman cuts through the legends and myths about these two powerful, charismatic figures and reveals their flaws as well as their strengths. The result is a sweeping epic of empire and insurrection, war and political intrigue, with a fascinating supporting cast, including General Kitchener, Rabindranath Tagore, Franklin Roosevelt, Lord Mountbatten, and Mohammed Ali Jinnah, the founder of Pakistan. It is also a brilliant narrative parable of two men whose great successes were always haunted by personal failure, and whose final moments of triumph were overshadowed by the loss of what they held most dear.
Praise For Gandhi & Churchill: The Epic Rivalry that Destroyed an Empire and Forged Our Age…
"Gandhi & Churchill is a powerful tale of the monumental clash between two of the giants of the twentieth century. Set against the backdrop of war and conflict, this brilliant dual biography of strong-willed visionaries locked in a struggle each believed in makes for compelling reading. Arthur Herman has written a masterful and superbly well researched account of the lives of two men who have had a profound influence on the world in which we live in today that will long stand as a testament to their legacy."—Carlo D'Este, author of Patton: A Genius For War and Eisenhower: A Soldier's Life 

"A fast-paced narrative history…Herman brings to life the twilight of the British Empire and reminds us how the twists and turns of fate helped propel these two men to their places in history. He shows us that there was more common ground between the two than most realize and that the seemingly simple tale of the imperialist and the nationalist is far more nuanced than it seems." — Pramit Pal Chaudhuri, The Hindustan Times, Bernard Schwartz Fellow, Asia Society

"Cutting through decades of narrow or shallow reporting, Arthur Herman offers a balanced and elegant account which captures both Churchill's generosity of spirit and Gandhi's greatness of soul. While recognizing their faults, he shows what motivated them and made them great—with impressive research that in Churchill's words leaves "no stone unturned, no cutlet uncooked." The last two chapters, and the author's Conclusion, are alone worth the price of what must become the standard work on the subject."—Richard M. Langworth, Editor, Finest Hour

"The rivalry between Winston Churchill and Mohandas Gandhi could hardly have been played for higher stakes. The future of British India hung upon the outcome of their 20-year struggle…. As one might expect from the author of To Rule the Waves, a fine history … Mr. Herman has researched Gandhi & Churchill meticulously and written it fluently."—Wall Street Journal

"An amazingly interesting and perceptive presentation of these two titans of the 20th century…. I learned so much."—Deirdre Donahue, USA Today's book reviewer, on the NPR program "On Point"

"A forceful portrait of the emergence of the postcolonial era in the fateful contrast—and surprising affinities—between two historic figures.... Fascinating."—Publishers Weekly

"Herman's book focuses on two imposing figures who epitomized the clash …. he has probed beneath the stereotypes… [and] tells their stories stylishly and eloquently."—Washington Post Book World

"The perfect summer book...You finish Gandhi & Churchill knowing that you can evaluate the world today, particularly modern India, with more knowledge and insight—USA Today

"Herman's storytelling style is engaging, giving new life to stories we have already heard and even forgotten…. Then there are the surprises…. Provocative, intriguing, even controversial."—India Today

"Scruplous, compelling, and unfailingly instructive…. A detailed and richly filigreed account that introduces the Anglo-American reader to many facts and vivid if little-known personalities, both English and Indian." –Commentary

" Brisk narrative flow.... Showing history eluding Gandhi and Churchill, Herman provocatively presents their efforts to shape it."—Booklist

"Exhaustively detailed."—St. Louis Post-Dispatch
Bantam, 9780553804638, 736pp.
Publication Date: April 29, 2008
or
Not Currently Available for Direct Purchase