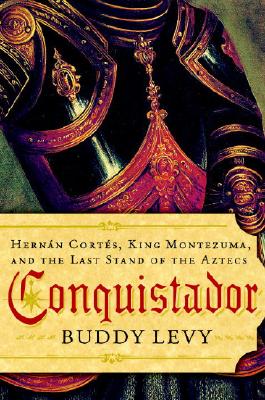 Conquistador (Hardcover)
Hernan Cortes, King Montezuma, and the Last Stand of the Aztecs
Bantam, 9780553805383, 448pp.
Publication Date: June 24, 2008
Other Editions of This Title:
Digital Audiobook (7/7/2008)
MP3 CD (7/1/2008)
Paperback (7/28/2009)
Compact Disc (7/1/2008)
Compact Disc (7/1/2008)
* Individual store prices may vary.
Description
In an astonishing work of scholarship that reads like an adventure thriller, historian Buddy Levy records the last days of the Aztec empire and the two men at the center of an epic clash of cultures.

"I and my companions suffer from a disease of the heart which can be cured only with gold." —Hernán Cortés

It was a moment unique in human history, the face-to-face meeting between two men from civilizations a world apart. Only one would survive the encounter. In 1519, Hernán Cortés arrived on the shores of Mexico with a roughshod crew of adventurers and the intent to expand the Spanish empire. Along the way, this brash and roguish conquistador schemed to convert the native inhabitants to Catholicism and carry off a fortune in gold. That he saw nothing paradoxical in his intentions is one of the most remarkable—and tragic—aspects of this unforgettable story of conquest.

In Tenochtitlán, the famed City of Dreams, Cortés met his Aztec counterpart, Montezuma: king, divinity, ruler of fifteen million people, and commander of the most powerful military machine in the Americas. Yet in less than two years, Cortés defeated the entire Aztec nation in one of the most astonishing military campaigns ever waged. Sometimes outnumbered in battle thousands-to-one, Cortés repeatedly beat seemingly impossible odds. Buddy Levy meticulously researches the mix of cunning, courage, brutality, superstition, and finally disease that enabled Cortés and his men to survive.

Conquistador is the story of a lost kingdom—a complex and sophisticated civilization where floating gardens, immense wealth, and reverence for art stood side by side with bloodstained temples and gruesome rites of human sacrifice. It's the story of Montezuma—proud, spiritual, enigmatic, and doomed to misunderstand the stranger he thought a god. Epic in scope, as entertaining as it is enlightening, Conquistador is history at its most riveting.
Praise For Conquistador: Hernan Cortes, King Montezuma, and the Last Stand of the Aztecs…
"For sheer drama, no age compares to the age of exploration, no explorers compare to the conquistadors and no conquistador compares to Hernan Cortes. In Buddy Levy's finely wrought and definitive Conquistador, the worlds of Cortes and Montezuma collide and come to life. Five hundred years after the conquest, the Cadillo and his prey have been made human. To read Conquistador is to see, hear and feel two cultures in a struggle to the death with nothing less than the fate of the western hemisphere at stake. Prodigiously researched and stirringly told, Conquistador is a rarity: an invaluable history lesson that also happens to be a page-turning read."—Jeremy Schaap, best-selling author of Cinderella Man: James J. Braddock, Max Baer and the Greatest Upset in Boxing History, and Triumph: The Untold Story of Jesse Owens and Hitler's Olympics

"Sweeping and majestic...A pulse-quickening narrative."—Neal Bascomb, author of Red Mutiny: Eleven Fateful Days on the Battleship Potemkin

"A century before the Mayflower, a single man settled the destiny of the Americas far more momentously than the Puritans ever could....Conquistador offers a fascinating account of the first and most decisive of those encounters: the one between the impetuous Spanish adventurer Cortés and Montezuma, the ill-starred emperor of the Aztecs.... [An] almost unbelievable story of missionary zeal, greed, cruelty and courage."—Wall Street Journal

"Drawing heavily on both Spanish and Aztec sources…. [Levy stresses] the military strategy, diplomatic initiaitves, and personal relationship between Cortés and Aztec emperor Montezuma…. Well-written…. Highly recommended."—Library Journal, starred review

"A fateful meeting of civilizations…. Cortes is front and center in this book…. [Levy's] description of the final siege on Tenochtitlan is especially dramatic."—Associated Press

"Explores just how far invaders will go to take what they want."–Cape Cod Times
or
Not Currently Available for Direct Purchase