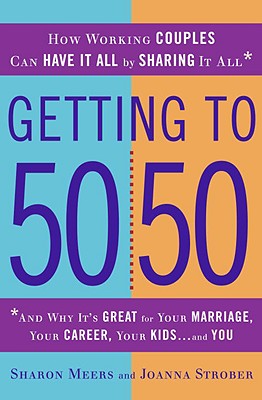 Getting to 50/50
How Working Couples Can Have It All by Sharing It All
Hardcover

* Individual store prices may vary.
Other Editions of This Title:
Digital Audiobook (9/9/2013)
Paperback (9/17/2013)
Description
Sharon Meers and Joanna Strober are professionals, wives, and mothers with five young children between them. They understand the challenges and rewards of two-career households. They also know that families thrive not in spite of working mothers but because of them. You can have a great career, a great marriage, and be a great mother. The key is tapping into your best resource and most powerful ally—the man you married.

After interviewing hundreds of parents and employers, surveying more than a thousand working mothers, and combing through the latest government and social science research, the authors have discovered that kids, husbands, and wives all reap huge benefits when couples commit to share equally as breadwinners and caregivers. Mothers work without guilt, fathers bond with their kids, and children blossom with the attention of two involved parents.

The starting point? An attitude shift that puts you on the road to 50/50—plus the positive step-by-step advice in this book.

Here are real-world solutions for parents who want to get ahead in their careers and still get to their children's soccer games; strategies for working mothers facing gender bias in the workplace; advice to fathers new to the homefront; and tips for finding 50/50 solutions to deal with issues of money, time, and much more.

From "baby boot camp" for new dads to exactly what to say when negotiating a leave with the boss, this savvy book offers fresh ideas to today's families. It also offers encouragement, hope, and confidence to any woman who has ever questioned her choices regarding work and family.
Praise For Getting to 50/50: How Working Couples Can Have It All by Sharing It All…
"Getting to 50/50 is the first book I've read that gets it 100% right. As a frantically juggling father and spouse, I learned something valuable and new from every page. The advice is brilliant, the examples cogent and compelling, and the tone wise and humorous. For anyone who wants to enjoy a full career, be a complete parent, and remain a supportive spouse, this is the book that will help you chart the way."—Roderick Kramer, William R. Kimball Professor of Organizational Behavior, Stanford University Graduate School of Business

" Once in a rare while, a book comes along and changes the entire nature of the discussion. If Getting to 50/50 doesn't spark a revolution in work/life balance, I don't know what will."—Deborah Copaken Kogan, author of Between Here and April and Hell is Other Parents

"Getting to 50/50 solves one of the most important pieces of the work/life puzzle: the relationship between husbands and wives." —Sylvia Ann Hewlett, President of the Center for Work-Life Policy and author of Off-Ramps and On-Ramps: Keeping Talented Women on the Road to Success

"A creative take on how to balance the demands of work and home.  (Fathers may be surprised to find out how much they can benefit from these new arrangements.) Parents with children from 1 to 21 should  rush right out and buy this book."—Carolyn Pape Cowan and Philip A. Cowan, authors of When Parents Become Partners: The Big Life Change for Couples


"As an organizer for social and economic justice, a true believer in equality, a working mom, and a woman leader in a male-dominated sector–the labor movement–I found Getting to 50/50 right on. It is full of great advice about how to negotiate for women and their families."—Anna Burger, Secretary-Treasurer, Service Employees International Union (SEIU)

"Anyone who wants to combine children and careers should read this book." —Sheryl Sandberg, COO, Facebook          

"Getting to 50/50 builds on what the latest research tells us:  that children can thrive with two working parents and that fathers and mothers play equally important roles.  I wish this book had existed when I was raising young daughters." —Kathleen McCartney, Dean, Harvard Graduate School of Education

"Yesterday's books were about the war between the sexes. Getting to 50/50 is a peace-treaty—a solution where both sexes win."—Penelope Trunk, author of Brazen Careerist

"A tremendously refreshing and insightful read for parents who want to meet their career aspirations and raise balanced, happy children."—Alexandria Albers, Managing Director, Morgan Stanley

"Too many women think they have to give up the career they love to have a happy family.  Getting to 50/50 shows them how to negotiate with bosses and husbands so that everybody wins–including the kids. Highly recommended."—Linda Babcock, coauthor of Women Don't Ask and Ask for It




Bantam, 9780553806557, 320pp.
Publication Date: February 24, 2009
About the Author
Sharon Meers is a former managing director at Goldman Sachs. Joanna Strober is managing director of a private equity firm in Silicon Valley. They live with their families in the Bay Area and speak frequently on work-life balance at universities and professional organizations nationwide.
or
Not Currently Available for Direct Purchase