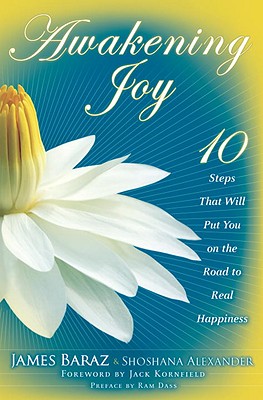 Awakening Joy
10 Steps That Will Put You on the Road to Real Happiness
Hardcover

* Individual store prices may vary.
Other Editions of This Title:
Paperback (11/15/2012)
Description
Joy is not for just the lucky few–it's a choice anyone can make. In this groundbreaking book, based on his popular course, James Baraz helps you discover a path to the happiness that's right in front of you, offering a step-by-step program that will reorient your mind away from dissatisfaction and distraction and toward the contentment and delight that is abundantly available in our everyday lives.

You can decide to be happy. For years, James Baraz's online Awakening Joy course has offered participants from around the world the benefits of this simple but profoundly radical proposition. Grounded in simple Buddhist principles but accessible to people of all faiths–or no faith at all–this concept provides the jumping-off point for a transformational journey toward a richer, more meaningful, more positive outlook on life. Now readers everywhere can follow the same ten steps Baraz teaches to his program participants. In this practical down-to-earth guide, you will learn how to

• make happiness a habit by inclining your mind toward states that lead to well-being
• find joy even during difficult times and avoid the pitfalls that prevent you from achieving the contentment you seek
• cultivate effective practices for sustaining joyfulness, such as reclaiming your natural sense of wonder and finding joy in the midst of everyday experiences

Each chapter of Awakening Joy consists of one step in Baraz's ten-step program and includes engaging exercises and practical advice to make happiness your natural default setting. For everyone from the cynic despondent over life's many sorrows to the harried commuter raging at freeway traffic, this book offers up a simple yet powerful message of hope grounded in the realization that joy already exists inside every one of us. Like a precious child, it only needs to be recognized, embraced, and nurtured in order to grow to its full potential.



Praise
"I've personally taken the Awakening Joy program and can say this unequivocally: It's fabulous and it works!  This book, filled with moving stories and rich teachings, will give you wonderful tools to experience true happiness and well-being.  It's a gem!"— Marci Shimoff, New York Times bestselling author of Happy for No Reason

"Opening to joy takes courage and intention. This book will inspire you to discover genuine happiness, and show you how. Drawing on perennial wisdom and accessible meditative practices, James and Shoshana offer teachings that can awaken your love of life."— Tara Brach, author of Radical Acceptance

"Awakening Joy is an important guide to transforming our everyday experience into genuine happiness.  James and Shoshana's insight, kindness, and clear and practical language make this a direct, pragmatic and valuable manual for a better life."—Sharon Salzberg, author of Lovingkindness: The Revolutionary Art of Happiness

"In this beautiful and heartwarming book, James Baraz and Shoshana Alexander take us on a journey that truly awakens joy. There are stories that bring tears to our eyes and practices that transform our lives.  This is a loving, wise, and compassionate testament to what is possible for each one of us.  Highly recommended."—Joseph Goldstein, author of A Heart Full of Peace 

"I'm so happy that James Baraz's Awakening Joy class is now available in book form.  His class has been helpful to thousands of people.  I plan to give it to all my clients who are struggling with creating a life of meaning and happiness.  Joyfulness is our birthright.  This book shows you how to reclaim it."—M.J. Ryan, author of AdaptAbility

"This is a life-changing book that not only teaches practical, useful strategies for increasing your awareness, but also illuminates choices about how you can lead your emotional life." —Paul Ekman, Ph.D., Professor Emeritus, University of California, San Francisco, co-author of Emotional Awareness and author of Emotions Revealed
 
"To awaken joy in oneself and others is one of life's great skills, a skill taught by sages across the centuries, and now distilled in this book."—Roger Walsh M.D., Ph.D., University of California Medical School, author of Essential Spirituality: The Seven Central Practices

"This book is an inspiring gift that will open your heart to the presence of love and joy in everyday life."—Frances Vaughan, Ph.D., psychologist, author of Shadows of the Sacred  
"Every page of this wonderful book has something that inspires faith or confidence: a new story, a memorable quote, an exercise that invites participation....From beginning to end, it is a joy to read."—Sylvia Boorstein, author of Happiness Is An Inside Job: Practicing for a Joyful Life 

"This book should be read by every person who cares about making this a better world. It can enhance the joys of working to develop a wiser and more compassionate society, and help make us both happier and more effective in challenging times."—Daniel Ellsberg, author of Secrets: A Memoir of Vietnam and the Pentagon Papers

   "This is an important book—and a great read! With its unique mix of story, philosophy, and practice we can explore our needs, free ourselves from the bonds of suffering, and innovate new ways of being that will last our lifetimes.  And, because James has woven himself and his characteristic smile throughout the book, we can have a lot of fun in the process."—Rick Foster, co-author of How We Choose to Be Happy 
 
"Faith, hope, and love have long been considered the essential virtues of the religious life. James Baraz has done us all a great service by elevating joy to its rightful place alongside the trinity of sacred emotions. What a gift is it, to be surprised by joy, and to awaken, in the midst of a difficult world, the impulse to rejoice."—Patricia E. de Jong, Senior Minister, First Congregational Church of Berkeley

"Awakening Joy is an inspirational and practical resource which helps us identify where we are or are not experiencing joy in our lives. This original book addresses the primary obstacles or beliefs that hinder our access to joy, and includes timeless practices and ways in which we can expand, cultivate, express, and experience more joy in our lives and within our own nature. Well-written, informative, and a significant contribution to everyone's well-being."—Angeles Arrien, Ph.D., cultural anthropologist, and author of award-winning Second Half of Life: Opening to the Eight Gates of Wisdom

"In our pursuit of happiness, this moving book should be a dog eared, worn out companion....As you work through this elegant material, you will find yourself laughing a little longer, dancing a little more, and awakening to the beauty of what lies inside you and in those nearby."—Dacher Keltner, Professor of Psychology, UC Berkeley, and author, Born To Be Good: The Science of a Meaningful Life

"I have been deeply touched and inspired by James Baraz's accessible, practical wisdom.  His genuine caring for people and enthusiasm for life generously pour forth and permeate everything that he teaches--now in the pages of this book."—Rabbi Margie Jacobs, Institute for Jewish Spirituality 
 
"Awakening Joy is a wise treasure house of valuable information, anecdotes, potent quotes, and creative suggestions to step into one's power and live life to the max. This book is a rich, inspiring resource I'm excited to share with my yoga students."—Gabriel Halpern, founder and director of the Yoga Circle [Chicago]
Bantam, 9780553807035, 336pp.
Publication Date: January 12, 2010
About the Author
James Baraz has been teaching meditation for more than thirty years and the Awakening Joy course, both on-site and online, since 2003. He is a co—founding teacher of the Spirit Rock Meditation Center in Woodacre, California, and is on the international advisory board of the Buddhist Peace Fellowship. He lives with his wife, Jane, in the San Francisco Bay area.

Shoshana Tembeck Alexander has studied Buddhism since the early 1970s and is the author of In Praise of Single Parents and Women's Ventures, Women's Visions. She has guided the work of several prominent Buddhist authors, including Tara Brach, Sharon Salzberg, and Wes Nisker. She lives in Ashland, Oregon.
or
Not Currently Available for Direct Purchase