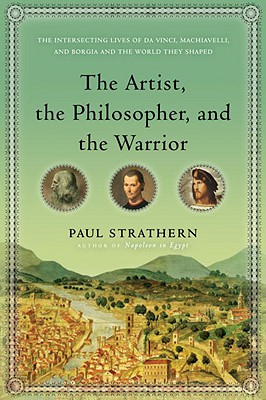 The Artist, the Philosopher, and the Warrior: The Intersecting Lives of Da Vinci, Machiavelli, and Borgia and the World They Shaped (Hardcover)
The Intersecting Lives of Da Vinci, Machiavelli, and Borgia and the World They Shaped
Bantam, 9780553807523, 480pp.
Publication Date: September 29, 2009
* Individual store prices may vary.
or
Not Currently Available for Direct Purchase
Description
The Renaissance was a child of many fathers--none more important than the three iconic figures whose intersecting lives provide the basis for this astonishing work of narrative history: Leonardo Da Vinci, Niccolo Machiavelli and Cesar Borgia. Each could not have been more different. They would meet only for a short time in 1502 but the events that transpired, would significantly alter their perceptions--and the course of Western history.
In 1502, Italy was riven by conflict, with the city of Florence as the ultimate prize. Machiavelli, the consummate political manipulator, attempted to placate the savage Borgia by volunteering the services of Da Vinci as Borgia's chief military engineer. That autumn, the three men embarked together on a brief, perilous, and fateful journey through the mountains, remote villages and hill towns of the Italian Romagna--the details of which were revealed in Machiavelli's often-daily dispatches and Da Vinci's meticulous notebooks.
In a book that is at once a gripping adventure story and a trenchant analysis of how men make history, The Artist, the Philosopher and the Warrior limns each man's personality, their interactions, and the forces that shaped their world. Superbly written, meticulously researched, here is a work of narrative genius--whose subject is the very nature of genius itself.
About the Author
Paul Strathern has lectured in philosophy and mathematics and is a Somerset Maugham Prize-winning novelist. He is the author of two series--Philosophers in 90 Minutes and The Big Idea: Scientists Who Changed the World--Napoleon in Egypt, and the Sunday Times bestseller The Medici: Godfathers of the Renaissance. He lives in London.
Praise For The Artist, the Philosopher, and the Warrior: The Intersecting Lives of Da Vinci, Machiavelli, and Borgia and the World They Shaped…
"Strathern conjures the dominant personalities of the past with exceptional power." —Booklist, starred review

"[A] rigorous and scholarly yet readable study of the confluence of three major Renaissance figures. Accessible and impressive in scope." —Kirkus Reviews

"This is popular history at its narrative best—rich in color, character and consequence."—The Times UK

"It is never easy intertwining the lives of three main characters—but Strathern has done so with brio and intelligence. The book is a triumph."—The Sunday Telegraph

"Strathern has a fine eye for the arresting detail." —The Herald

"A cleverly crafted study of a pivotal moment in European history, culture and thought."—Telegraph Review

"There is no doubt that Paul Strathern tells the story clearly and vividly. Anyone wanting an easy and readable introduction to the political events of the decade would be satisfied."—Irish Times

Advertisement