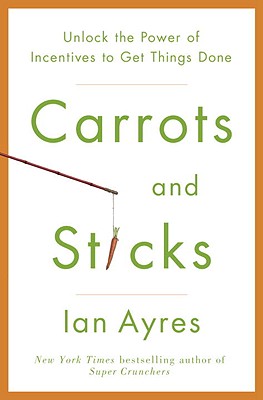 Carrots and Sticks (Hardcover)
Unlock the Power of Incentives to Get Things Done
Bantam Books, 9780553807639, 218pp.
Publication Date: September 21, 2010
* Individual store prices may vary.
Description
Could you lose weight if you put $20,000 at risk? Would you finally set up your billing software if it meant that your favorite charity would earn a new contribution? If you ve ever tried to meet a goal and came up short, the problem may not have been that the goal was too difficult or that you lacked the discipline to succeed. From giving up cigarettes to increasing your productivity at work, you may simply have neglected to give yourself the proper incentives.
In Carrot and Sticks, Ian Ayres, the "New York Times" bestselling author of Super Crunchers, applies the lessons learned from behavioral economics the fascinating new science of rewards and punishments to introduce readers to the concept of commitment contracts: an easy but high-powered strategy for setting and achieving goals already in use by successful companies and individuals across America. As co-founder of the website stickK.com (where people have entered into their own commitment contracts and collectively put more than $3 million on the line), Ayres has developed contracts including the one he honored with himself to lose more than twenty pounds in one year that have already helped many find the best way to help themselves at work or home. Now he reveals the strategies that can give you the impetus to meet your personal and professional goals, including how to
motivate your employees
create a monthly budget
set and meet deadlines
improve your diet
learn a foreign language
finish a report or project you ve been putting off
clear your desk
Ayres shares engaging, often astounding, real-life stories that show the carrot-and-stick principle in action, from the compulsive sneezer who needed a stick (the potential loss of $50 per week to a charity he didn t like) to those who need a carrot with their stick (the New York Times columnist who quit smoking by pledging a friend $5,000 per smoke . . . if she would do the same for him). You ll learn why you might want to hire a professional nagger whom you ll do anything to avoid no, your spouse won t do and how you can hand-tie your future self to accomplish what you want done now. You ll find out how a New Zealand ad exec successfully sold his smoking addiction, and why Zappos offered new employees $2,000 to quit cigarettes.
As fascinating as it is practical, as much about human behavior as about how to change it," "Carrots and Sticks is sure to be one of the most talked-about books of the year.
About the Author
Ian Ayres is an economist and lawyer who is the William K. Townsend Professor at Yale Law School and a professor at Yale s School of Management. He is a columnist for Forbes magazine and a regular contributor to the "New York Times" Freakanomics blog. He served for seven years as the editor of the "Journal of Law, Economics, " and "Organization," and in 2006 was elected to the American Academy of Arts and Sciences. He has previously written ten books, including Super Crunchers, which was a "New York Times "business bestseller and named one the Best Economics and Business Books of the Year by "The Economist." He lives in New Haven, Connecticut. "
Praise For Carrots and Sticks: Unlock the Power of Incentives to Get Things Done…
"'Lord, give me chastity and continence, but not yet.'  Ian Ayres has developed the pathbreaking tools that resolve Saint Augustine's paradoxical prayer, brilliantly showing us how to escape self-defeating behavior and overcome the drive for instant gratification." —David Laibson, Robert I. Goldman Professor of Economics, Harvard University

"There are creative books, rigorous books, and useful books, but Carrots and Sticks is all three. It's fascinating and fun to read, and my abs are in great shape too—all thanks to Ian Ayres. Bravo." —Tim Harford, "The Undercover Economist"

"For about thirty years there has been increasing study of how people try to manage, and sometimes succeed in managing, their own behavior: smoking, eating, procrastinating, drinking, losing their temper, fears and phobias, games, fingernails . . . . The list goes on. Here is an entertaining report on one of the basic techniques of overcoming what the ancient Greeks called "weakness of will." All can enjoy it; many may discover it therapeutic."—Thomas C. Schelling, 2005 Nobel Laureate in Economics

"This brilliant book will help you outwit your greatest adversary: your future self. It will give you tools that can change your life."—Barry Nalebuff, co-author of The Art of Strategy

or
Not Currently Available for Direct Purchase