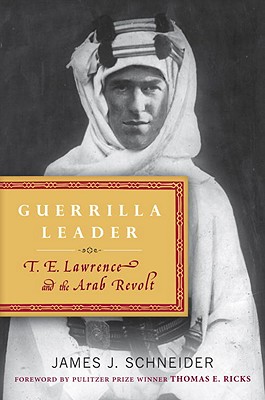 Guerrilla Leader: T. E. Lawrence and the Arab Revolt (Hardcover)
T. E. Lawrence and the Arab Revolt
Bantam, 9780553807646, 368pp.
Publication Date: November 8, 2011
* Individual store prices may vary.
or
Not Currently Available for Direct Purchase
Description
Reclaiming T. E. Lawrence from hype and legend, James J. Schneider offers a startling reexamination of this leader's critical role in shaping the modern Middle East. Just how did this obscure British junior intelligence officer, unschooled in the art of war, become "Lawrence of Arabia" and inspire a loosely affiliated cluster of desert tribes to band together in an all-or-nothing insurgency against their Turkish overlords? The answers have profound implications for our time as well, as a new generation of revolutionaries pulls pages from Lawrence's playbook of irregular warfare.
Blowing up trains and harassing supply lines with dynamite and audacity, Lawrence drove the mighty armies of the Ottoman Turks to distraction and brought the Arabs to the brink of self-determination. But his success hinged on more than just innovative tactics: As he immersed himself in Arab culture, Lawrence learned that a traditional Western-style hierarchical command structure could not work in a tribal system where warriors lead not only an army but an entire community. Weaving quotations from Lawrence's own writings with the histories of his greatest campaigns, Schneider shows how this stranger in a strange land evolved over time into the model of the self-reflective, enabling leader who eschews glory for himself but instead seeks to empower his followers. Guerrilla Leader also offers a valuable analysis of Lawrence's innovative theories of insurgency and their relevance to the ongoing turmoil in the Middle East.
This exhaustively researched book also provides a detailed account of the Arab revolt, from the stunning assault on the port city of Aqaba to the bloody, Pyrrhic victory at Tafileh, the only set-piece battle Lawrence fought during the Great Arab Revolt. Lawrence emerged from the latter experience physically and mentally drained, incapable of continuing as a military commander, and, Schneider asserts, in the early stages of the post-traumatic stress disorder that would bedevil him for the rest of his life. The author then carries the narrative forward to the final slaughter of the Turks at Tafas and the Arabs' ultimate victory at Damascus.
With insights into Lawrence's views on discipline, his fear of failure, and his enduring influence on military leadership in the twenty-first century, Guerrilla Leader is a bracingly fresh take on one of the great subjects of the modern era.
Foreward by Pulitzer Prize winner Thomas E. Ricks.
About the Author
James J. Schneider is Professor Emeritus of Military Theory at the School of Advanced Military Studies, USACGSC, Ft. Leavenworth. A recognized international expert in his field, Schneider has taught and written extensively on military theory, having helped develop some of the key theoretical and pedagogical underpinnings to contemporary operational art for a new generation of military officers. Schneider is currently a military consultant with a global think tank.
Praise For Guerrilla Leader: T. E. Lawrence and the Arab Revolt…
Praise for Guerrilla Leader

Guerrilla Leader provides an authoritative analysis of Lawrence's military and political achievements. Schneider gets the reader inside Lawrence's head so that you feel acutely his anxieties, musings, and doubts. Pairing a sweeping, compelling narrative of the Arab revolt with a piercing and intimate psychological portrait, Guerrilla Leader brings Lawrence to life for contemporary readers."
—Craig M. Mullaney, New York Times bestselling author of The Unforgiving Minute: A Soldier's Education

"Guerilla Leader provides an important new window onto the achievements of T.E. Lawrence. Schneider's fresh and surprising portrait of Lawrence makes this remarkable figure startlingly relevant to today's world."
—Steven Pressfield, Bestselling author of Gates of Fire

"Guerrilla Leader is much more than an insightful history of a fascinating campaign. James Schneider has written a rich study of leadership and command – read it to better understand our adversaries and ourselves."
—Nathaniel C. Fick, New York Times bestselling author of One Bullet Away

Advertisement