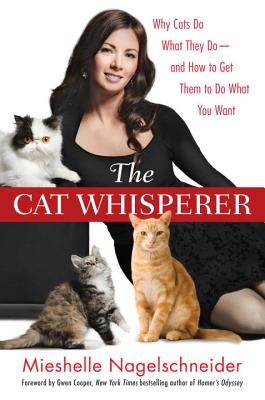 The Cat Whisperer
Why Cats Do What They Do--and How to Get Them to Do What You Want
Hardcover

* Individual store prices may vary.
Description
Practical and effective strategies for solving every feline behavior problem imaginable—from litter box issues to scratching, spraying, biting, and beyond.
 
"Mieshelle Nagelschneider is a wizard at demystifying cat behavior and providing easy-to-follow steps for solving vexing problems."—Bob Tarte, author of Kitty Cornered
 
Cat Whisperer Mieshelle Nagelschneider has been helping people deal with these dilemmas for two decades, achieving a near-perfect success rate. Central to her approach is a keen understanding of the unique way cats see the world—their need for safety and security, their acute territoriality, and their insatiable desire to catch and kill prey. Her proven C.A.T. cat behavior modification plan is a commonsense course of action that can be specifically tailored to your cat in the context of its behavior problems and its particular household environment. Easy-to-implement solutions help transform even the most anxiety-riddled companions into confident, gregarious, and relaxed cats who live longer, happier, and healthier lives. Inside you'll discover 
 
• how to harness the power of "friendly pheromones" to improve your cat's appetite, exploration, grooming, and play 
• where, when, and how to create a litter box environment that will provide ease of access and reduce anxiety for you and your cat
• how to end aggression in multiple-cat households and help your cats coexist peacefully
 
Who says you can't train a cat? In this fascinating and indispensable book, the Cat Whisperer takes you inside the mind of a feline to explain why members of one of the world's most inscrutable species act the way they do—and how you can convince them to change their behaviors for the sake of your peace of mind . . . and theirs.
Praise For The Cat Whisperer: Why Cats Do What They Do--and How to Get Them to Do What You Want…
Praise for The Cat Whisperer
 
"I wish I had read The Cat Whisperer before I started filming Must Love Cats. The cats would have liked me a lot more."—John Fulton, host of Animal Planet's Must Love Cats
 
"Mieshelle Nagelschneider is a wizard at demystifying cat behavior and providing easy-to-follow steps for solving vexing problems. I dog-eared (or should I say cat-eared) so many pages for later reference that my book doesn't want to close. Living with six demanding cats in a small house, I wish I'd had this excellent guide years ago."—Bob Tarte, author of Kitty Cornered, Enslaved by Ducks, and Foul Weather
 
"The reason people are so mesmerized by house cats is because they are truly miniature versions of lions, tigers, and leopards. In her book The Cat Whisperer, Mieshelle Nagelschneider explains the behavior of the house cat in an unprecedented and most accessible way, offering unique insight into the often misunderstood companion animal that is as wild as we have become civilized."—Jordan Carlton Schaul, Ph.D., contributing editor, National Geographic, and curator, Orange County Zoo
 
"Pet owners despairing of getting their cats to behave will find new hope in this comprehensive guide. . . . This book more than meets Nagelschneider's goal of guiding owners to the strategies for behavioral and environmental change needed to address issues such as urination outside the litter box and aggressiveness."—Publishers Weekly
 
"Nagelschneider provides excellent information. . . . Full of 'think like a cat' advice, Nagelschneider's work will make for happier human-feline households."—Booklist
Bantam, 9780553807851, 336pp.
Publication Date: March 5, 2013
About the Author
Mieshelle Nagelschneider is one of the nation's most renowned and sought-after cat behaviorists. In addition to working with thousands of cat owners in person, by phone, and online, she has consulted with vets to help them deal with the problem behaviors that their clients complain about and that they themselves have with their own cats. The Cat Behavior Clinic, which she founded, opened in 1999 and serves clients all over the world. She has been featured in Animal Planet's Must Love Cats, Martha Stewart Living Radio, USA Today, Cat Fancy, Real Simple, and Feline Wellness, and on Salon.com, Pawnation.com, and NBC's Petside.com, and serves on the advisory council for Pet360.com. She lives in Portland, Oregon, with her family and nine animals: six cats, two dogs, and one monitor lizard.
or
Not Currently Available for Direct Purchase