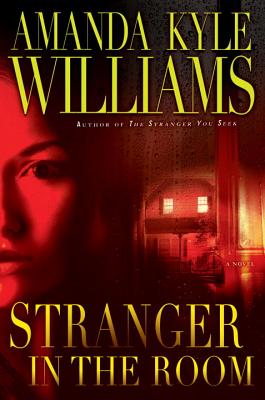 Stranger in the Room (Hardcover)
Bantam, 9780553808087, 320pp.
Publication Date: August 21, 2012
Other Editions of This Title:
Digital Audiobook (8/20/2012)
Mass Market (11/26/2013)
* Individual store prices may vary.
Description
Fresh from her debut, The Stranger You Seek—which Publishers Weekly called "an explosive, unpredictable, and psychologically complex thriller that turns crime fiction clichés inside out"—Amanda Kyle Williams delivers a second thrilling Keye Street novel, perfect for fans of Karin Slaughter and Patricia Cornwell.

That bullet was meant for you.
 
Summer is smoldering through Atlanta on Fourth of July weekend, as fireworks crack through the air and steam rises from the pavement on Peachtree. Private investigator and ex–FBI profiler Keye Street wants nothing more than a couple of quiet days alone with her boyfriend, Aaron—but, as usual, murder gets in the way.
 
I will find her.
 
A.P.D. Lieutenant Aaron Rauser is called to the disturbing scene of the strangling death of a thirteen-year-old boy. Meanwhile, Keye must deal with not one but two of her own investigations: In the hills of Creeklaw County, there's a curious case involving chicken feed and a crematorium, and in Atlanta, Keye's emotionally fragile cousin Miki is convinced she is being stalked. Given Miki's history of drug abuse and mental problems, Keye is reluctant to accept her cousin's tale of a threatening man inside her house late one night. But as a recovering alcoholic herself, Keye can't exactly begrudge a woman her addictions—especially since Miki drives Keye to near-relapses at every turn. And yet, Miki is family, and Keye must help her—even if it means tempting her own demons.
 
I always find her.
 
All hell breaks loose when another murder—the apparent hanging of an elderly man—hits disturbingly close to home for Keye. And though the two victims have almost nothing in common, there are bizarre similarities between this case and that of Aaron's strangled teen. Is there a single faceless predator, a calculating murderer targeting his prey at random? Only a skilled profiler like Keye Street can help the A.P.D. find him. With the threat of more deaths to come, Keye works on pure instinct alone—and soon realizes that a killer is circling ever closer to the people she loves the most.
 
Praise for Amanda Kyle Williams's The Stranger You Seek
 
"An exceptionally smart and harrowing character-driven debut by a welcome new thriller writer."—New York Times bestselling author Karin Slaughter
 
"A creepy, suspenseful, breathtaking ride . . . [Keye] Street is a unique and worthy addition to the rich tradition of damaged and tough private detectives."—Associated Press
 
"[Williams] keeps the suspense taut and the humor snarky, with an ending that will have you slapping your foreheard over clues you missed."—The Atlanta Journal-Constitution
 
"With its shocking triple-twist climax, this is the best private eye debut since Dennis Lehane's A Drink Before the War."—The Plain Dealer
 
"An explosive, unpredictable, and psychologically complex thriller."—Publishers Weekly (starred review)
 
"A dark, gritty thriller, The Stranger You Seek is a sensational debut. Readers will relish this story's many captivating, powerful, and compelling layers."—New York Times bestselling author Julia Spencer-Fleming
About the Author
Amanda Kyle Williams is the author of "The Stranger You Seek." Williams is currently at work on the third Keye Street thriller, "Don't Talk to Strangers."
Praise For Stranger in the Room…
Praise for Amanda Kyle Williams and Stranger in the Room
 
"Keye Street remains the most interesting, cynically funny and smart series detective today. . . . The tension buzzes like cicadas on a hot Georgia night and the pace is relentless."—Seattle Post-Intelligencer
 
"One of the most addictive new series heroines since Stephanie Plum."—The Atlanta Journal-Constitution
 
"The best fictional female P.I. since Sue Grafton's Kinsey Millhone."—The Plain Dealer
 
"Keye Street immediately puts herself in the top echelon of suspense heroes. She's a mess of fascinating contradictions—effortlessly brilliant on a case, totally inept in managing her own life. She is brutally funny and powerfully human—one of the most realistic protagonists in crime fiction that I've had the thrill to read."—Tess Gerritsen, New York Times bestselling author of Last to Die
 
"There's a new voice in Atlanta, and her name is Amanda Kyle Williams—captivating, powerful and compelling."—Julia Spencer-Fleming, New York Times bestselling author of One Was a Soldier
 
"Readers of this fast-paced thriller will be eager for the next Street tale."—Publishers Weekly
Book Videos
or
Not Currently Available for Direct Purchase