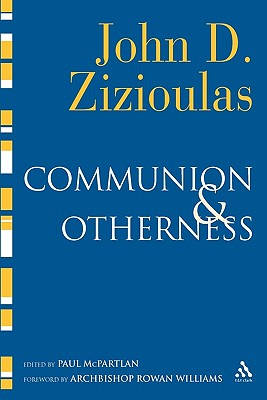 Communion and Otherness: Further Studies in Personhood and the Church (Paperback)
Further Studies in Personhood and the Church
T. & T. Clark Publishers, 9780567031488, 315pp.
Publication Date: November 1, 2006
Description
Communion and otherness: how can these be reconciled?' In this wide-ranging study, the distinguished Orthodox theologian, Metropolitan John (Zizioulas) of Pergamon, seeks to answer that question. In his celebrated book, "Being as Communion" (1985), he emphasised the importance of communion for life and for unity. In this important companion volume he now explores the complementary fact that communion is the basis for true otherness and identity.
With a constant awareness of the deepest existential questions of today, Metropolitan John probes the Christian tradition and highlights the existential concerns that already underlay the writings of the Greek fathers and the definitions of the early ecumenical councils. In a vigorous and challenging way, he defends the freedom to be other as an intrinsic characteristic of personhood, fulfilled only in communion.
After a major opening chapter on the ontology of otherness, written specially for this volume, the theme is systematically developed with reference to the Trinity, Christology, anthropology and ecclesiology. Another new chapter defends the idea that the Father is cause of the Trinity, as taught by the Cappadocian fathers, and replies to criticisms of this view. The final chapter responds to the customary separation of ecclesiology from mysticism and strongly favours a mystical understanding of the body of Christ as a whole. Other papers, previously published but some not easily obtainable, are all revised for their inclusion here.
This is a further contribution to dialogue on some of the most vital issues for theology and the Church from one of the leading figures in modern ecumenism.
About the Author
John D.Zizioulas, Metropolitan of Pergamon, was previously Professor of Systematic Theology at the University of Glasgow and Visiting Professor at King's College, London. He is the author of Communion and Otherness (2006), and has been a major Orthodox contributor to modern ecumenical discussion. Paul McPartlan is Carl J. Peter Professor of Systematic Theology and Ecumenism at the Catholic University of America. The Rt. Hon. and Most Reverend Rowan Williams is Archbishop of Canterbury. He was formerly Lady Margaret Professor of Divinity at Oxford and Archbishop of Wales.
Advertisement