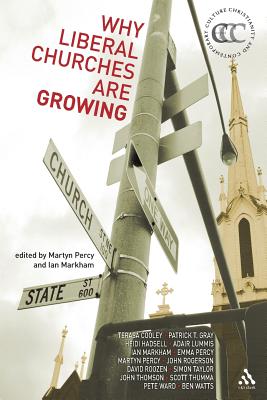 Why Liberal Churches Are Growing (Paperback)
T. & T. Clark Publishers, 9780567081735, 183pp.
Publication Date: March 23, 2006
Description
Why Liberal Churches are Growing is a fascinating journey through different case studies, social science reflection, and theological analysis. The contributors include sociologists, theologians, and practical theologians.
The book has four sections. The first, 'defining themes', looks at the social justice witness (community organizing), church growth as conversational, and the challenge of turning liberal churches around.The book then looks at three case studies - starting with congregations and moving to a denomination. Under the heading 'macro issues' it explores in more detail the underlying disposition of liberal churches and revisits such themes as social justice, homosexuality, and alternative indicators of vitality. The book concludes with three essays on 'clergy and growth'.
About the Author
Ian Markham is Dean of Hartford Seminary, Connecticut. Martyn Percy is Principal, Ripon College, Cuddesdon, UK. From 1997-2004 he was Director of the Lincoln Theological Institute for the Study of Religion and Society. Martyn has recently been appointed honorary Professor at King's College, London and also holds an Adjunct Professorship of Theology and Ministry at Hartford Seminary, Connecticut, USA. Martyn is a regular contributor to Radio 4, The BBC World Service, The Independent, The Guardian and other media. Since September 1999 he has served as a Council Member and Director of the Advertising Standards Authority in London. He is also Canon Theologian for Sheffield Cathedral.
Advertisement