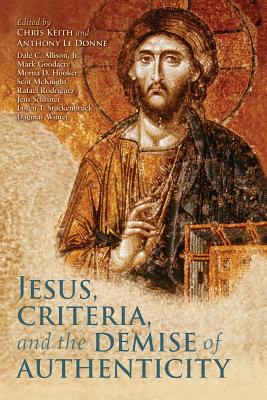 Jesus, Criteria, and the Demise of Authenticity (Paperback)
Continnuum-3PL, 9780567377234, 256pp.
Publication Date: June 28, 2012
Other Editions of This Title:
Hardcover (6/28/2012)
* Individual store prices may vary.
Description
Criteria of authenticity, whose roots go back to before the pioneering work of Albert Schweitzer, have become a unifying feature of the so-called Third Quest for the Historical Jesus, finding a prominent and common place in the research of otherwise differing scholars. More recently, however, scholars from different methodological frameworks have expressed discontent with this approach to the historical Jesus. In the past five years, these expressions of discontent have reached a fever pitch.

The internationally renowned authors of this book examine the nature of this new debate and present the findings in a cohesive way aimed directly at making the coalface of Historical Jesus research accessible to undergraduates and seminary students. The book's larger ramifications as a thorough end to the Third Quest will provide a pressure valve for thousands of scholars who view historical Jesus studies as outmoded and misguided. This book has the potential to guide Jesus studies beyond the Third Quest and demand to be consulted by any scholar who discards, adopts, or adapts historical criteria.
About the Author
Chris Keith is Professor of New Testament and Early Christianity and Director of the Centre for the Social-Scientific Study of the Bible at St. Mary's University College, Twickenham, UK. He is the author of The Pericope Adulterae, the Gospel of John and the Literacy of Jesus, a winner of the 2010 John Templeton Award for Theological Promise, and Jesus' Literacy: Scribal Culture and the Teacher from Galilee. He is also the co-editor of Jesus among Friends and Enemies: A Historical and Literary Introduction to Jesus in the Gospels, and was recently named a 2012 Society of Biblical Literature Regional Scholar.