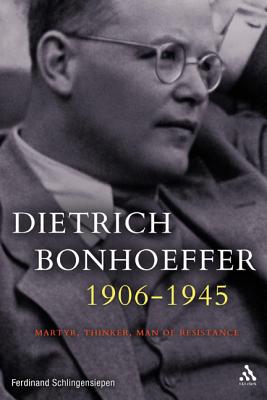 Dietrich Bonhoeffer 1906-1945
Martyr, Thinker, Man of Resistance
Paperback

* Individual store prices may vary.
Description
A new comprehensive biography of this hugely important Christian martyr, 60 years after his execution at the hands of the Nazis
Bonhoeffer has gained a position as one of the most prominent Christian martyrs of the last century. His influence is so widespread that even 60 years after his execution by the Nazis, Bonhoeffer's life and work are still the subject of fresh and lively discussion. As a pastor and theologian, Bonhoeffer decided to resist the Nazis in Germany, but his resistance was not solely theological. He played a key leadership role in the Confessing Church, a major source of Christian opposition to Hitler and his anti-Semitism and was principal of the secret seminary at Finkenwalde in Pomerania.
It was here that he developed his theological visions of radical discipleship and communal life. In 1938, he joined the Wehrmacht's Abwehr, the German Military Intelligence Office, in order to seek international support for the plot against Hitler. Following his inner calling and conscience meant that Bonhoeffer was continually forced to make decisions that separated him from his family, friends, and colleagues, and which ultimately led to his martyrdom in Flossenb rg concentration camp, less than a month before the Second World War came to an end. His letters and papers from prison movingly express the development of some of the most provocative and fascinating ideas of 20th century theology. Sixty years after Bonhoeffer's death and forty years after the publication of Eberhard Bethge's ground breaking biography, Ferdinand Schlingensiepen offers a definitive new book on Bonhoeffer, for a new generation of readers. Schlingensiepen takes into account documents that have only been made accessible during the last few years - such as the letters between Bonhoeffer and his fianc e Maria von Wedemeyer. Schlingensiepen's careful narrative brings to life the historical events, as well as displaying the theological development of one of the most creative thinkers of the 20th century, who was to become one of its most tragic martyrs.
T&T Clark, 9780567493194, 472pp.
Publication Date: June 7, 2012
About the Author
Dr Ferdinand Schlingensiepen is one of the Founders of the International Bonhoeffer Society. His father was principal of one of the seminaries of the Confessing Church. As a theologian and pastor, Schlingensiepen was a close friend of Eberhard Bethge. He has published widely on Bonhoeffer, Heinrich Heine and the German novelist, Theodor Fontane.