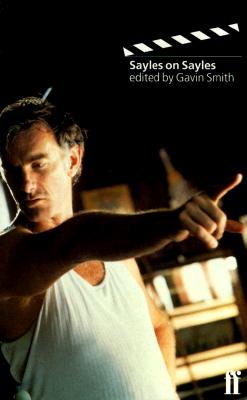 Sayles on Sayles (Paperback)
Faber & Faber, 9780571192809, 216pp.
Publication Date: February 1, 1998
* Individual store prices may vary.
Description
John Sayles is a filmmaker of many faces: the writer/director of authentically independent films rooted in good talk, character study and social reflection (The Return of the Secaucus Seven, Baby, It's You, Brother from Another Planet, Matewan, and Passion Fish). He has also crafted vibrant, sardonic projects for Roger Corman (Piranha, Alligator and The Lady in Red), as well as working as a screenwriter-for-hire (The Hollowing, Apollo 13).

Recent films such as City of Hope and Lone Star exhibit his great gifts as he follows his characters' complex journeys towards self-honesty and personal truth.

Twice nominated for an Academy Award for Best Original Screenplay, he has also written novels, short stories, a book on low-budget film-making, and created the television series Shannon's Deal.

In Sayles on Sayles, Gavin Smith takes Sayles step by step through the trajectory of his career and film-making practice, and in the process illuminates the work of the one of the truly authentic US independent film-makers.

Gavin Smith is a contributing editor to Film Comment.
Praise For Sayles on Sayles…
"Sayles, critically acclaimed and more than established, has proven his directing, editing, writing, and even acting ability in relation to independent filmmaking. But what many people probably don't know is just how creative this man is. He has published novels and short stories, directed plays, made some of Bruce Springsteen's music videos, and written screenplays for numerous other directors' television and movie productions. Sayles is a man of many hats, few pretenses, and a great deal of thought. Though his language, in this interviewlike format, is utterly down to earth, his ideas are big and his dedication to the craft of filmmaking, from whatever angle, is obvious. Sayles believes that the personalism of his work in based, not in the facts of his life, but in the interests he has, which he pursues through his scripts and films. There is something truly self-sacrificing in that approach, particularly for a writer in this confessional-trend culture, and it must certainly account for the sincerity and subtlety in Sayles' fine body of work."—Booklist

"This in-depth look at the work of one of America's most successful maverick filmmakers is another fine contribution to Faber and Faber's 'Directors on Directors' series. As an accomplished writer, director, and actor, Sayles is a rarely talented triple threat. His movies, including The Brother from Another Planet, The Secret of Roan Inish, and Lone Star, have won critical acclaim for their uncompromising honesty and their adamantly individual vision. Unlike many independent directors, Sayles truly works outside the Hollywood mainstream, contemplating unpopular subjects and problems, rarely casting stars, yet doing well enough to make film after film. He got his start with B-meister Roger Corman, cranking out quickie, though generously subtextual, genre scripts such as Piranha and Alligator—in which, as Sayles once remarked, 'the alligator eats its way through the entire socioeconomic system.' He has also made money by taking on occasional acting gigs, by writing a well-received novel and a short-story collection, and by turning his hand to (usually uncredited) stints at Hollywood script-doctoring. It's worth noting that he pulled together no more than just enough money to fund his first film,
iReturn of the Secaucus Seven, considered by some to be the wellspring of the modern indie movement; it established Sayles's reputation. This Q-and-A chronicle, despite inevitable generic limitations, provides a fascinating film-by-film analysis of his creative process. From his ideas about acting to his theories of editing to why he has favored a certain lens, Sayles remains articulate throughout, and often revealing. He's well-served by collaborator Smith, an associate editor of Film Comment, who asks the right questions and shows a rich, nuanced understanding of Sayles and his work. An invaluable companion piece to Sayles's films."—Kirkus Reviews
or
Not Currently Available for Direct Purchase