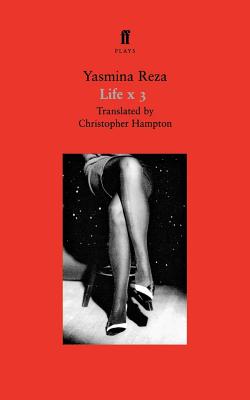 Life x 3 (Paperback)
A Play
Farrar, Straus and Giroux, 9780571207381, 84pp.
Publication Date: October 17, 2001
* Individual store prices may vary.
Description
From the celebrated writer of Art, a scathingly hilarious commentary on vanity, professional insecurity, and the vicissitudes of marriage.
Life X 3 presents three versions of two couples (and an offstage six-year-old) trying to make a success of one evening despite the fact that they neither like nor respect one another. When Hubert and Inès arrive a day early to dinner at the home of Henri and Sophie, Sophie barely has time to change out of her robe and Inès is in a foul mood about a run in her stocking-from there, the evening can only go downhill. Over an improvised meal of chocolate fingers, potato chips, and wine, the couples trade insults on every social and professional level and loyalties are changed with the same rapidity that glasses of Sancerre are drained. However, as she has so astutely done in the past, Yasmina Reza uses these acidic exchanges to illuminate the innate desire for love and acceptance in us all.
About the Author
Yasmina Reza, born in Paris in 1959, is an acclaimed playwright, screenwriter, and novelist. Her first play, Conversations Après un Enterrement (Conversations After a Burial) won her the 1987 Molière Award for Best Author along with a Johnson Foundation Award and a SACD New Talent Award. Her other works for the theater include Art and The Unexpected Man, among others. She lives in Paris.
Christopher Hampton
was born in the Azores in 1946. He wrote his first play,
When Did You Last See My Mother?,
at the age of eighteen. His many works for the theatre, television and cinema include
The Philanthropist,
translations of Yasmina Reza's
Art, Life x 3,
and
The Unexpected Man
, his adaptation of
Les Liaisons Dangereuses
by Laclos, translations from Ibsen and Molière,
and the screenplays
Dangerous Liaisons, Carrington,
and
The Secret Agent.
Praise For Life x 3: A Play…
"[Reza] has perfected the technique of combining light comedy with the play of ideas . . . [Life X 3]is clever, it's elegant, it's entertaining." —Charles Spencer, The Daily Telegraph
"[Reza] is the most exported living playwright on the planet, a woman whose culturally rich background has given her real insight into the melting pot of today's society . . . Life X 3 ruminate[s] on man's place in the universe . . . Her amalgamation of laughs with smart arguments and flashes of raw emotion is a crowd-pulling recipe . . . [Her] social satire is often cryingly funny." —Kate Bassett, The Independent
"Alan Ayckbourn meets Edward Albee . . . The writing is sharp, the observation spot-on." —Georgina Brown, Mail on Sunday
"The Grand Chaos Theory . . . is applied to a Parisian dinner-party in Yasmina Reza's delightful . . . comedy of manners. Life X 3 is designed to show how chance, with its impact upon our actions and behaviour, changes everything . . . A wicked pleasure to behold. Miss Reza is a star-reporter at the sex-war front and a thorough mocker of male pretensions." —Nicholas de Jongh, The Evening Standard
"Adroitly translated by Christopher Hampton . . . LIfe X 3 amounts to pleasure-in-triplicate." —Paul Taylor, The Independent