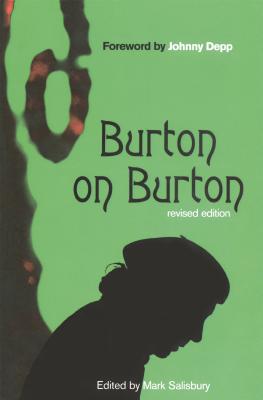 Burton on Burton, 2nd Revised Edition
Paperback

* Individual store prices may vary.
Description
A revised edition of the only book to explore the unique brilliance of director Tim Burton's work, including a new chapter on the making of Sleepy Hollow.

Still only in his thirties, Tim Burton has established himself in the past fifteen years as one of the great visionaries of film. With the Batman films, Beetlejuice, Edward Scissorhands, The Nightmare Before Christmas, Ed Wood, and, most recently, Sleepy Hollow, he has continually broken new ground both visually and thematically, exploring the dark anguish--as well as the dark humor--that animates many of his characters while also creating a densely textured, sometimes bizarre look specific to each film.

In Burton on Burton, Burton talks to Mark Salisbury about his training as an animator at Disney, the importance of design in his films, and the recurring themes present in his work. In this revised edition, he also discusses the influence of 1950s sci-fi and 1970s disaster films on Mars Attacks! as well as how he conceived his highly stylized approach to the content and setting of Sleepy Hollow, his acclaimed retelling of the Washington Irving story that stars Johnny Depp, perhaps the actor most identified with Burton's work. Enhanced by stills from the films, storyboards, and illustrations of set designs for all his major films, Burton on Burton provides insights and information about the man and his work, throwing light on both his unique artistic vision and on the extraordinary films that have been the result.
Praise For Burton on Burton, 2nd Revised Edition…
"[Burton] is, to me, a true genius and I wouldn't use that word with too many people, believe me. You can't label what he does. It's not magic, because that would imply some sort of trickery. It's not just skill, because that seems like it's learned. What he has is a very special gift that we don't see every day. It's not enough to call him a filmmaker. The rare title of 'genius' is a better fit . . . in not just film but drawings, photographs, thought, insight, and ideas . . . I have never seen someone so obviously out of place fit right in." —Johnny Depp, from the Foreword
Farrar, Straus and Giroux, 9780571229260, 320pp.
Publication Date: September 19, 2006
About the Author
Timothy "Tim" William Burton
(born August 25, 1958) is an Academy Award and Golden Globe-nominated American film director, writer and designer notable for the quirky and often dark atmosphere in his high-profile films.
Mark Salisbury is a contributing writer for Premiere maagzine. Among his other books are Behind the Mask: The Secrets of Hollywood's Monster Makers