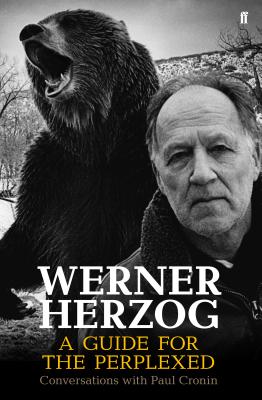 Werner Herzog
A Guide for the Perplexed: Conversations with Paul Cronin
Hardcover

* Individual store prices may vary.
Other Editions of This Title:
Paperback (7/9/2003)
Description
An invaluable set of career-length interviews with the German genius hailed by François Truffaut as "the most important film director alive"
Most of what we've heard about Werner Herzog is untrue. The sheer number of false rumors and downright lies disseminated about the man and his films is truly astonishing. Yet Herzog's body of work is one of the most important in postwar European cinema.
His international breakthrough came in 1973 with Aguirre, the Wrath of God, in which Klaus Kinski played a crazed Conquistador. For The Enigma of Kaspar Hauser, Herzog cast in the lead a man who had spent most of his life institutionalized, and two years later he hypnotized his entire cast to make Heart of Glass. He rushed to an explosive volcanic Caribbean island to film La Soufrière, paid homage to F. W. Murnau in a terrifying remake of Nosferatu, and in 1982 dragged a boat over a mountain in the Amazon jungle for Fitzcarraldo. More recently, Herzog has made extraordinary "documentary" films, such as Little Dieter Needs to Fly. His place in cinema history is assured, and Paul Cronin's volume of dialogues provides a forum for Herzog's fascinating views on the things, ideas, and people that have preoccupied him for so many years.
This revised edition features new interviews discussing Herzog's films up to From One Second to the Next (2013), as well as additional text from Herzog, his collaborator Herbert Golder, the physicist Lawrence Krauss, and the filmmaker Harmony Korine.
Praise For Werner Herzog: A Guide for the Perplexed: Conversations with Paul Cronin…
"[A] magnificent volume of interviews. . . This book presents an opportunity to enjoy extended musings from one of the most fascinating minds to which we are fortunate enough to have collective access. . . Reading [Herzog] expounding on his myriad interests and obsessions, in tones that are full and fluent without ever crossing into pretentiousness or obscurity, is a tonic for the brain." —Hannah McGill, The Independent
"Extraordinary . . . the book is so full of marvelous passages that one could go on quoting forever . . . What is remarkable about A Guide for the Perplexed . . . is the access it provides to the furious inner excitement of one of the great artists . . . of our time." —Francine Prose, Prospect
"A Guide for the Perplexed is a blockbuster performance of telling and hiding: remembering, denying, cursing, reliving traumas and triumphs; picking over all the project, triumphant and forgotten. This much revised and updated version of the one published in 2002 is an invaluable guide to a head-fought life and career. It is a black bible of verbiage, controlled rants and recollections, fit to stand beside any of the wandering director's savage pilgrimages." —Iain Sinclair, The Times Literary Supplement
"This month, Faber published A Guide for the Perplexed, a compendium of conversations between Herzog and the writer Paul Cronin . . . I'm putting my neck out and saying it's the best book I've read all year." —Nathalie Olah, Vice
"A spectacular read . . . offering a rare glimpse of one of the most ravenously imaginative minds of our time." —Maria Popova, Brain Pickings
"The heftiest and most fascinating one-stop guide that the Herzog fan, or even newcomer, could possibly ask for." —Seven Magazine
Farrar, Straus and Giroux, 9780571259779, 592pp.
Publication Date: September 2, 2014
About the Author
Paul Cronin is a writer and filmmaker. He edited Roman Polanski: Interviews and writes for numerous publications, including Sight and Sound.
or
Not Currently Available for Direct Purchase