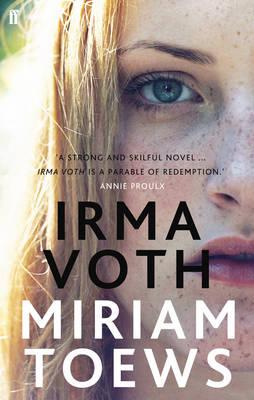 Irma Voth
Paperback

* Individual store prices may vary.
Other Editions of This Title:
Digital Audiobook (3/31/2016)
Digital Audiobook (3/19/2018)
Hardcover (9/6/2011)
Paperback (6/1/2011)
Description
From the award-winning author of A Complicated Kindness comes a heart-wrenching yet wryly funny story about setting out on the road to self-discovery, and finding the strength to survive in the face of immeasurable loss.
Nineteen-year-old Irma Voth lives in a Mennonite community in northern Mexico, surrounded by desert and both physically and culturally isolated from the surrounding towns and cities. It's been six years since her family up and left Canada to escape the prying eyes of the government and preserve their religious freedom, but Irma still misses the minor freedoms she had in their small town. She even misses the cold. This new life has not been an easy one, and Irma finds herself deserted by her husband of one year, who has left to pursue a life of drug-running, instead of working her family's farm. The most devastating blow for Irma is that he didn't take her with him, take her away, so now she's left to live under her father's domineering rule alone.
Things change for Irma when a film crew moves into the empty house next door. They've come to make a movie about the Mennonite community, and have made a deal with Irma's father to stay on their land. The director enlists Irma to work for them as a translator, as she can speak not only Spanish and English but Plattdeutsch, or Low German, the language of her people. At first bemused by the ragged and absurd crewmembers, Irma comes to embrace the passion and creative freedom of their world - but in doing so brings on the wrath of her father, who is determined to keep her from it at all costs. When Irma's thirteen-year-old sister Aggie begins to come by and spend time with the crew, their father is sent over the edge with rage, and Irma is forced to make a hard decision to save not only herself, but her younger sister, and to break the dark chain of violence holding her family.
The girls flee to the city, not knowing where they'll find food or shelter, let alone build a life, but knowing for the first time that they are free to make that choice. And even as they begin to understand the truth of the tragedy that has their family in its grip, Irma and Aggie use their love as a source of strength to help each other move on from their past lives and work toward a future that can truly become anything they want it to be.
Faber & Faber, 9780571273560
Publication Date: April 1, 2012
About the Author
Miriam Toews (pronounced taves) was born in 1964 in the small Mennonite town of Steinbach, Manitoba. She left Steinbach at eighteen, living in Montreal and London and touring Europe before coming back to Manitoba, where she earned a B.A. in film studies at the University of Manitoba. Later she packed up with her children and partner and moved to Halifax to attend the University of King's College, where she received a bachelor's degree in journalism. Upon returning to Winnipeg with her family in 1991, she freelanced at the CBC, making radio documentaries. When her youngest daughter started nursery school, Toews decided it was time to try writing a novel.

Miriam Toews's first novel, Summer of My Amazing Luck, was published in 1996; it was nominated for the Stephen Leacock Memorial Medal for Humour and won the John Hirsch Award. Published two years later, her second novel, A Boy of Good Breeding, won the McNally Robinson Book of the Year Award. Toews's next book, Swing Low: A Life, ""told the story of her father, who committed suicide in 1998 after a lifelong battle with manic depression. Toews then returned to fiction, with the bestselling novel A Complicated Kindness, published in 2004, which was a Giller Prize finalist and won the Governor General's Literary Award for Fiction. Her next novel, The Flying Troutmans (2008), won the Rogers Writers' Trust Fiction Prize. Toews has also written for the CBC, "This American Life "(on National Public Radio), "Saturday Night," "Geist," "Canadian Geographic," "Open Letters "and the" New York Times Magazine," and she has won the National Magazine Award Gold Medal for Humour.

It was A Complicated Kindness, set in the small Mennonite town of East Village, Manitoba, that solidified Miriam Toews's place among Canada's most respected and best-loved authors. It tells the story of sixteen-year-old Nomi Nickel and the battles she faces as a teenager in a religious vacuum of a town, not to mention within her fractured family, as she deals with the loss of both her mother and her sister. The novel was widely praised for its dark humour and for how Toews delves into the frustration and despair that can flourish when you live within a fundamentalist religion; the "Globe and Mail" called it "a black humour grenade, dealing a devastating explosion of gut-busting laughs alongside heart-wrenching sorrow."

Miriam Toews didn't expect to set another book within the Mennonite world she grew up in, but that changed after she was asked by director Carlos Reygadas to appear in his 2007 film "Stellet Licht" ("Silent Light"). The film was about a Mennonite family in Mexico, and Reygadas, who prefers to use non-actors, contacted Toews out of the blue to ask her to play a wife who is betrayed by her husband. Toews reluctantly agreed to take on the role, but only after the director pointed out that doing so would give her something interesting to write about. The movie was filmed on location in a Mennonite community in northern Mexico, over the course of eight weeks, and the cast and crew lived on site in two abandoned farmhouses. The experience, Toews has said, was at once familiar, but so unfamiliar as well. "I could far more easily relate to the filmmakers than I could to these old-school Mennonites, although they all looked like me, and our names are all similar," she commented in one interview. "There were so many layers of strangeness to it. I certainly knew it was a rich experience. I knew that I was experiencing something completely unique and intense."

Three years later, Toews would use her memories of that time as source material as she embarked on her fifth novel, Irma Voth. Set in a Mennonite colony in Chihuahua, Mexico, the novel tells the story of nineteen-year-old Irma Voth, who is struggling against the fundamentalist world of her upbringing - and particularly her father - when a film crew moves in next door, intent on making a movie about the community. For Toews, this novel would build upon the issues she brought to readers in A Complicated Kindness, with the relation between Mennonite men and women, and fathers and daughters especially, at the forefront. As Toews mentioned in one interview, "I have seen the damage that fundamentalism can do. The way the religion is being interpreted, it's a culture of control and that emphasis on shame and punishment and guilt is not conducive to robust mental health." Irma Voth is the story of what happens when one young woman dares to break free of that culture of control and make a new life.

Today, Miriam Toews makes her home in Toronto, Ontario, where she shares a big old house with her mother and one of her daughters.
or
Not Currently Available for Direct Purchase