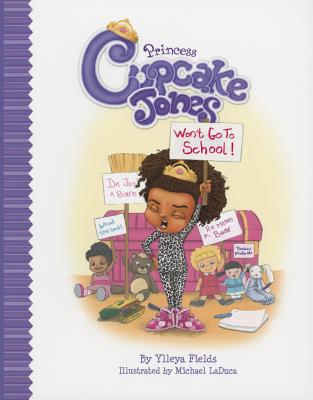 Princess Cupcake Jones Won't Go to School (Princess Cupcake Jones Series) (Hardcover)
Belle Publishing LLC, 9780578113043, 32pp.
Publication Date: September 8, 2014
* Individual store prices may vary.
Description
Princess Cupcake Jones, the modern-day princess who loves her tutu and playing with her toys, is about to begin school . . . but says, "I won't go!" Cupcake tries everything to avoid her first day—from pretending to be sick to even hiding! However, Mom stays one step ahead of her. Only after arriving at school and meeting a new friend does Cupcake realize that school might not be as scary as she thought. The book features a special word ("love") hidden in each illustration.
About the Author
Ylleya Fields was hunting for books to read to her eldest daughter when she was 2, and was struck by the small selection of titles featuring modern African American characters. Blending both of her daughters' images and personalities, she created Princess Cupcake Jones. Born in South America, she lives in Cleveland, Ohio. Michael LaDuca is an animator and illustrator who always knew his calling was in the arts. As a master of character expression and still-framed storytelling, he produces brilliant illustrations that charm audiences and bring storybooks to life. He lives in Buffalo, New York.