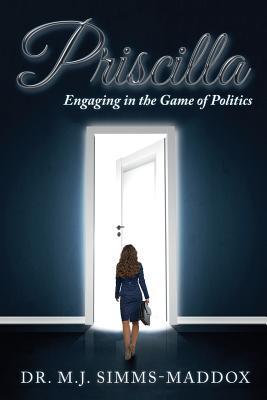 Priscilla
Engaging in the Game of Politics
Paperback

* Individual store prices may vary.
Description
This prequel portrays a bright, carefree, and enterprising African American young woman who is almost always getting into a spot of trouble. Priscilla is her name. Called "PJ," "Missy," and "Miss Prissy" by family and close friends, she is self-centered, spoiled, and sheltered; and she hardly ever sees herself the way that others see her. She is also strongly bound to her father-a Methodist minister and consummate politician. And although Priscilla has four other sisters and one brother, her father has raised her differently than the others, especially from the other girls.
Less admirable traits are her tendency to push the envelope to the edge and her unpredictability.
The story opens when, on a flight to Tallahassee, Florida, Priscilla reminisces about how she ended up in the Ohio Senate. It had been early in August of 1970, and Reverend Austin took Priscilla on her first plane ride. They flew from nearby Buffalo, New York to Charlotte, North Carolina, rented a car, and then drove en route to Salisbury to enroll Priscilla in college.
Although Priscilla's mother had wanted her to major in business, and her father had preferred "the noble profession of teaching," Priscilla's interest is in politics She completed her undergraduate studies, and, early in the winter of 1974, she'd headed off to The Ohio State University.
While in graduate school, she acquired an internship with a state senator. They had an affair. And although Priscilla completed the program for a doctorate in political science, she did not write her dissertation. Quite to the surprise of everyone who knew her, she instead joined the faculty at Florida A&M University. Even more surprisingly, after a mere two years on the job, her father asked a huge favor of her, to "relocate closer to home" (Prendergast, New York). But her father did not reveal the reason behind his request.
In honoring her father's request, Priscilla contacts the Ohio state senator with whom she'd had an affair. The senator offers her a job as his legislative aide. She accepts.
Throughout, the series' prequel takes a deep look at the forces which made Priscilla what she is: her family roots in highly-segregated Mississippi, her upbringing in upstate New York where subtle racism leaves its scars despite her loving father's protection, a campus date rape that leaves her with unhealed wounds and, a scintillating season as a high-powered legislative aide in a life-altering political scandal.
M. J. Simms-Maddox, Inc., 9780578178998, 354pp.
Publication Date: June 12, 2018