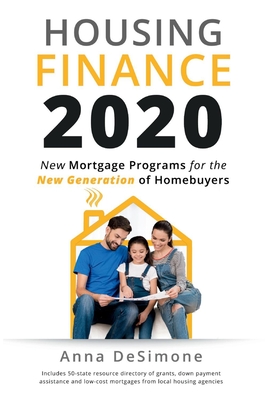 Housing Finance 2020 (Paperback)
BookBaby, 9780578209913, 300pp.
Publication Date: August 4, 2019
* Individual store prices may vary.
Description
OVER 900 WEBLINKS TO GRANTS AND DOWN PAYMENT ASSISTANCE ARE INCLUDED. Housing Finance 2020 explains the newest mortgage programs, and recent enhancements made to boost homeownership affordability. Packed with infographics and clear illustrations, readers will learn how to estimate qualified loan potential, and exactly what steps and verification documents are required by lenders for each type of mortgage program. Step-by-step instructions for completing the loan application are included, along with document checklists and a detailed timeline. You'll learn all about credit score requirements, and what debts are counted toward in loan qualification. Illustrative scenarios explain zero-down payments, how to finance closing costs or home renovations. The mystery of credit scores are explained, along with instructions to boost your credit profile. Income verification is explained for self-employed borrowers and other types of non-salaried income. You'll understand how mortgages work, how equity grows in your home over time, and all the qualifying rules for conventional, FHA, VA, rural housing, manufactured housing, Native American, reverse mortgages, construction, renovation, and energy-efficient mortgages.
About the Author
Anna DeSimone is an award-winning author and consultant in housing finance. She has authored more than 40 professional guidebooks and over 600 articles on the topics of fair lending, mortgage best practices, and consumer compliance. She is founder of Bankers Advisory, a mortgage quality control and compliance audit services company.