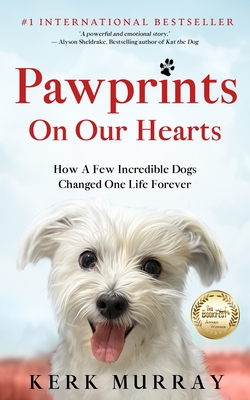 Pawprints On Our Hearts
How A Few Incredible Dogs Changed One Life Forever
Paperback

* Individual store prices may vary.
Other Editions of This Title:
Hardcover (7/7/2022)
Hardcover (11/14/2021)
Description
The instant #1 International Bestseller
-
BookFest 2022 Memoir Award Winner
-
- 3x Literary Award Winner -
You'll Laugh And Cry Reading This Awe-Inspiring Story About A Boy Whose Life Is Saved By The Love Of Dogs-And Grows Up To Return The Favor
"Murray offers a moving examination of personal trauma and deep bonds with animals in this EXCEPTIONAL DEBUT... Animal lovers will feel connected to Murray's almost spiritual awakening and admire his devotion to following his heart, even in the face of tremendous sacrifice. This touching memoir OVERFLOWS WITH INTENSE EMOTION." - BookLife by Publishers Weekly
Kerk Murray faced some dark times growing up in the suburbs of south Atlanta. In this coming-of-age memoir, he shares his experiences of being bullied, battling depression, and overcoming drug abuse with the help of a few four-legged heroes. Giving Kerk a new purpose, their role in his redemption inspired him to founding The Lexi's Legacy Foundation, an animal advocacy 501(c)(3) nonprofit organization, which has provided care to over 500 abused animals and raised over $100,000 in donations and services for animal rescue organizations across the world.
As a tribute to those dogs in Kerk's life, 100% of the book's proceeds will be donated toward the nonprofit's mission to end animal suffering.
Scroll up, Click "Buy Now", and Get Your Copy Today From the Back Cover
Pawprints On Our Hearts is a soul-stirring coming-of-age memoir unpacking the journey we experience alongside the animals we love-from forging the unbreakable bonds of friendship to relishing the nostalgia of time passed too quickly. Together scaling the mountaintops of love and courageously descending into the deepest sorrows of loss. Discovering the purpose of our lives as we pause to revel in those extraordinary moments-the ones that changed us forever, leaving behind who we were so that we could arrive at who we were meant to be.
You'll laugh and cry as you reminisce, connecting once more to the joys of loving and being loved by your animal companion. More importantly, you'll never be the same again.
How could you be?
Learning what it means to be human is the story of us all. But luckily, we have help along the way from these beautiful creatures who set the bar high and redefine what love ought to be.
Winter Press Publishing, 9780578248660, 174pp.
Publication Date: August 5, 2021