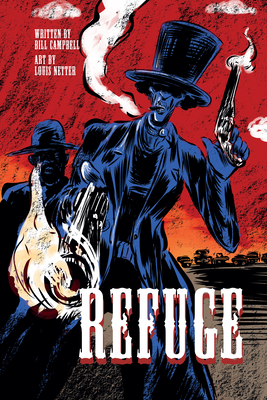 Refuge
Paperback

* Individual store prices may vary.
Description
1879. After decades of violence of fleeing, having gone everywhere from Florida to Mexico, a war-weary band of Seminole Blacks led by their sheriff, Desi Leans, and his wise-cracking deputy, Gay Day, have finally settled in the Oklahoma Territory. They have built their dream, Refuge, and they will do whatever it takes to make it work.
But they fear that it may all go up in smoke when an outlaw band of renegade buffalo soldiers, The Testimony Gang, comes to town. Desi strikes an uneasy truce with the gang until their true leader, the firebrand preacher, Prester John, arrives, promising to rain fire and brimstone down on all those who don't believe in his ways. Will Refuge hold true to its promise or will it all be burned to the ground?
Rosarium Publishing, 9780578391533, 160pp.
Publication Date: February 14, 2023
About the Author
Bill Campbell is the author of Sunshine Patriots, My Booty Novel, and the anti-racism satire, Koontown Killing Kaper. Along with Edward Austin Hall, he co-edited the groundbreaking anthology, Mothership: Tales from Afrofuturism and Beyond. He also co-edited Stories for Chip: A Tribute to Samuel R. Delany with Nisi Shawl, Future Fiction: New Dimensions in International Science Fiction and Fantasy with Francesco Verso, and APB: Artists against Police Brutality with Jason Rodriguez and John Jennings. His Afrofuturist spaceploitation graphic novel, Baaaad Muthaz (with David Brame and Damian Duffy) was released in 2019. His historical graphic novel with Bizhan Khodabandeh, The Day the Klan Came to Town, was released by PM Press in 2021. Campbell lives in Washington, DC, where he spends his time with his family and helms Rosarium Publishing. Louis Netter is a practicing illustrator with over 15 years of experience. His satirical illustrations have been published in magazines and books and his artwork has been collected by the Metropolitan Museum of Art and the Library of Congress, among other collections in the US. In 2017, a comic collaboration with Olly Gruner was published in The Corbyn Comic Book (Self Made Hero). His comics have also been published in World War 3 Illustrated. He is exploring further "comic as research" projects following the publication of Steal This History in the journal Rethinking History, published by Taylor and Francis. He has completed a graphic novel called Lizard World and is working on a collection of stories about CIA misdeeds with Nathan Callahan called Madness. He has recently received his PhD from the Royal College of Art.