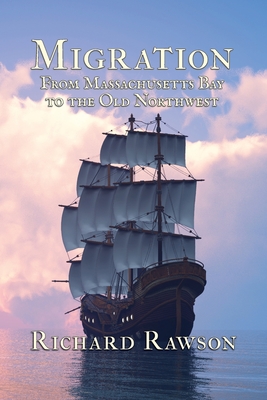 Migration
From Massachusetts Bay to the Old Northwest
Paperback

* Individual store prices may vary.
Other Editions of This Title:
Hardcover (5/1/2019)
Description
Two hundred years of history are framed in "Migration" by the experience of a particular American family, the Rawsons. Written by a descendant of Edward Rawson--one of the early Puritan settlers--"Migration" follows the path taken by seven generations of the Rawson family, from the governing councils of Puritan Boston in the 1600s to the rich farmlands of southern Michigan two hundred years later.
Their odyssey began in the 1630s with a perilous voyage from the south of England across the broad Atlantic to the new Massachusetts Bay Colony, and continued onward fifty years later to the still dangerous frontier of Mendon, Massachusetts.
In 1800, Rawsons ventured north to Pittsford, Vermont, hilly lands made safe by the Revolutionary War, and then in a single generation they leaped hundreds of miles west to Milan, Michigan, in the newly organized territories of the Old Northwest.
Wars between great powers, violent displacement of native peoples, economic downturns and the advent of canal-building and steamship navigation combined to open vast areas to tens of thousands of new settlers. In their quest for personal liberty and economic opportunity, the migrants encountered physical dangers and punishing winter weather, including the "year without a summer" caused by a massive volcanic eruption in the faraway South Sea.
"Migration" seeks to answer the deceptively simple question "why?" What social, political or economic factors were at work to push or pull tens of thousands of settlers, including the Rawsons, hundreds of miles west over two centuries? By what means were they able to make their way into these new lands? What if anything connected them to the particular destinations they chose?
The broad strokes of American history are best understood not just as a parade of great events and famous men and women, but instead by the experience of ordinary people and their families. Richard Rawson's "Migration" contributes to that understanding.
###
E.L.F. Book Enterprises, 9780578463346, 158pp.
Publication Date: May 3, 2019