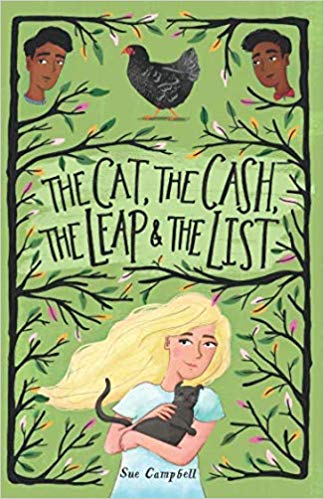 The Cat, the Cash, the Leap, and the List
Paperback

* Individual store prices may vary.
Other Editions of This Title:
Digital Audiobook (7/10/2020)
Description
Ten-year-old Martha has leadership skills. At least, that's what her parents say. Her cousins, Sanjay and Anand, say she's bossy.

When Martha secretly adopts a very pregnant cat from a garage sale free box right before her cousins come for a long visit, it puts a serious kink in her carefully laid plans for summer. That kink grows even bigger when the cat runs away. Still, Martha's determined to give her cousins forty-two days of fun, Portland, Oregon style.

But ten-year-old Sanjay and eight-year-old Anand face troubles of their own. Anand must get strong enough to conquer the Tarzan rope that looms across the neighborhood swimming pool. And Sanjay has a big secret stashed in Martha's attic.

Can they all work together to find Martha's cat and newborn kittens? Or will the urban coyotes get them first?
The Cat, the Cash, the Leap, and the List is a new take on the classic summer adventure story for middle grade readers.
If you like books with humor, heart, and action like The Penderwicks, let Sue Campbell take you on a delightful romp through Portland in the summertime.
Buy The Cat, the Cash, the Leap, and the List today to start your summer adventure.
Praise For The Cat, the Cash, the Leap, and the List…
Two boys from Minnesota come to spend a summer in Portland with their cousin Martha, a real mover and shaker in her neighborhood. Martha rescues a pregnant cat just before they arrive, and their whole Summer of Fun takes an exciting turn when the cat escapes to have her kittens somewhere where people can't get at them--but urban coyotes might.

The scenes of Portland life are vivid and funny. Martha and her cousins have real adventures in the real world as they each take on a personal mission. And all the while the clock is ticking for them to find Mama Cat and her kittens before it's too late.

The Cat, The Cash, The Leap, and The List is well-written and engaging, equal parts funny, exciting, and moving, with a solid plot, and the nice quick pacing that middle grade readers love. Highly recommended.
--Anne Hawley

I was honored to be an early reader for this little gem of an adventure book. I loved it. The classroom of children I shared it with thought it was a great read. "Now we read cool books in school!" said one of the readers. Kids also loved the cover by "That illustrator that does all the good books." The author says this book is for 9 to 12 year olds, but I think this book would also work well as a read-aloud for children as young as five. The protagonist is older (twelve-year-old appeal) but there are younger characters of interest. What's great about this book is that it appeals to all genders. It's a specific and tightly wound story that is so well written that it has wide appeal. Highly recommended.
--Rachelle
Root Word Books, 9780578476117, 158pp.
Publication Date: May 17, 2019
About the Author
Sue Campbell is a word merchant. Getting stories into the world is what she's all about. She's both a writer and a book marketer. She cohosts The Mommy's Pen Podcast with her twelve-year-old daughter where they talk about a dissect stories. She lives with her husband, two daughters, five chickens, and a super messy rabbit on a quasi-urban farm in Portland, Oregon. Visit her online at suecampbellbooks.com.