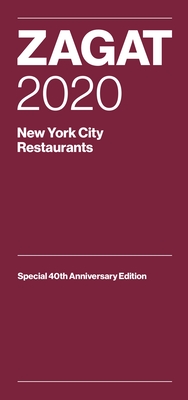 Zagat 2020 New York City Restaurants
Special 40th Anniversary Edition
Paperback

* Individual store prices may vary.
Description
The best of New York City: from the top spots to local favorites, this is your essential guide.
Ratings and reviews for NYC's best restaurants as voted on by trusted diners. Since its inception in 1979, Zagat has become the most useful and reliable resource in restaurant discovery. Zagat's short, pithy reviews make deciding on a restaurant easy, quick, and most of all entertaining. The Zagat 2020 New York City Restaurants guide includes intel on more than 1,400 restaurants across the five boroughs, and hundreds of restaurant indexes sorted by location, cuisine, or special occasion.
In celebration of Zagat's 40th anniversary, this special edition also features a decade-by-decade retrospective of NYC dining over the past 40 years, a foreword by restaurateur Danny Meyer, and much more.
Praise For The Zagat 2020 NYC Guide
"Zagat's revival in the form of a 350-page, 2020 New York City Restaurants "special 40th anniversary edition" reminds me how much I -- and the city's dining zillions -- missed it." - Steve Cuozzo, The New York Post
"The iconic burgundy guidebook that helped shape the modern consumer era is back" - Fast Company
"Zagat published an excellent little phone book. I can find the phone numbers and addresses of most restaurants faster by scanning an alphabetical list than by swatting my thumbs at my phone screen." - Pete Wells, The New York Times
"Coffee Tables Everywhere Rejoice: Zagat's NYC Guide Is Back In Print" - Forbes
Zagat Survey, 9780578483610, 352pp.
Publication Date: November 12, 2019