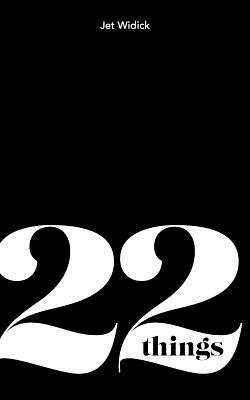 22 Things
Paperback

* Individual store prices may vary.
Description
After living with silent celiac disease for 15 years, Jet Widick's diagnosis presented an opportunity for her to seize control of her life from a once unknown assailant. As she fought to improve her physical health, she realized that her story could serve to help others on their journeys to wellness, and in doing so, discovered the deep healing power of writing and how to find peace from within.
Jet Widick's fourth book of poems features themes and topics around self-love, acceptance, and appreciating the details that turn an ordinary moment into the extraordinary. Her words encourage us to reflect on what brings us joy and to remove ourselves from the distractions that take us away from the vital things that mean the most to us; the things that bring lasting happiness and fulfillment.
22 Things is a beautifully designed and delightful mix of Jet Widick's poetic musings in alternating rhymes, rhyming couplets, internal rhymes, half rhymes, and free verse. Each poem is a reminder of the power of the present moment, and how in the present, something strange begins to happen. One discovers freedom and space to explore the nature of their true self. How in the now, life becomes bright and beautiful.
North Coast Post, 9780578489797, 46pp.
Publication Date: March 22, 2019