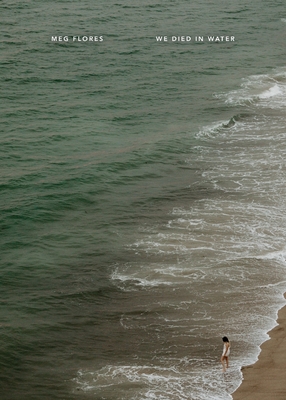 We Died in Water (Paperback)
Meg Flores, 9780578491066, 164pp.
Publication Date: October 1, 2019
* Individual store prices may vary.
Description
This is a memoir that faces how every love story reflects the one before it. Like waves, people crash into each other before pulling back. I have always known this kind of breaking. First, my father left my mother. And, in the same way, someone left me. I have felt this flux endlessly. A shattering. A sameness. Then, loving you changed everything.
WE DIED IN WATER is nonlinear and poetic, insisting that the act of recollection puts one's heart in a prism, a place of distortion and vivid beauty. As it ebbs and deepens as the ocean does, a kaleidoscope of memories shift to express the same losses from infinite positions, every one different and newly devastating. A breathtaking reverie on the chaos of symmetry, it becomes something to return to again and again.
About the Author
Meg Flores received a Bachelor of Arts in English with an emphasis in creative writing from California State University, Northridge where she was awarded the Lesley Johnstone Memorial Award two consecutive years. She writes of loss with lyrical, shimmering prose, which has been featured in The Conium Review, Cleaver Magazine, and Monkeybicycle. Her first book, 'We Died in Water,' is a self-published memoir that reads as poetry influenced by Lana Del Rey and Maggie Nelson's 'Bluets.' She calls her husband home. They live in Los Angeles. Follow along on Instagram @bymegflores.
Praise For We Died in Water…
"Like the metaphor of the ocean Meg uses throughout, this book calls you back to it. It is not something easily discarded or forgotten. Heartfelt, sincere, and extensive- We Died In Water is a stunning and stirring tribute to love itself, its echo unparalleled, gleaming with radiance and hope." --Christine Jewel, Author of 'Fading Through'

"Mesmerizing and achingly familiar. We Died in Water weaves poetry and discernment into memoir, resonating and staying with you long after you've read the words." --Nicole Ting, Goodreads user

"A powerful and healing read! The kind of book I'll read again and again as my heart needs it." --Holly Claire, Goodreads user

"I had never felt so much in a self published book....I would definitely recommend this book to anyone who loved Nayyirah Waheed and Upile Chisala..." --Ajay Sawant, Goodreads user

"I can see this book being the next Milk and Honey." --Effy, Goodreads user