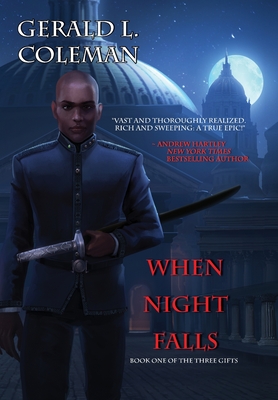 When Night Falls
Book One Of The Three Gifts
Hardcover

* Individual store prices may vary.
Other Editions of This Title:
Paperback (3/13/2019)
Paperback (5/27/2014)
Description
When Night Falls feels like Lord of the Rings meets Black Panther.
New York Times Bestselling Author, Andrew Hartley calls it "Vast and thoroughly realized. Rich and sweeping: a true epic "
We rarely consider the reputation of our age. An ordinary one, for most of us, would suffice. You might be an Empress too concerned with the affairs of State, a soldier focused on your duty, a former rascal trying to find redemption, or even a great warrior too busy with your command to know that there are whispers being spoken in late-night taverns. But what happens when your ordinary age stops being so ordinary? What happens when dark, twisted things step out of the mists of legend to walk the world again? Strange, black ships have been spotted far out at sea. People are disappearing from towns without a trace. Cordovan, a member of the Watchmen of Alexandria, knows something is wrong, as he races toward the capital, hoping he will make it in time. Far to the north, two members of the ancient order of the Ki'gadi, fear the darkness may already be here. While the rest of the world carries on, unaware of the danger, they search for the place where the darkness is taking root. Heroes will be needed to face what is coming. Thankfully, Alexandria is home to one. His name is Bantu, the Commander-General of the Peoples Company. He will be needed, when night falls.
Gerald L. Coleman, 9780578495613, 656pp.
Publication Date: April 15, 2019