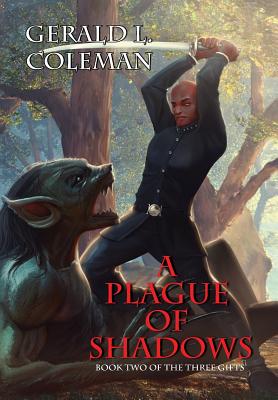 A Plague Of Shadows
Book Two Of The Three Gifts
Hardcover

* Individual store prices may vary.
Other Editions of This Title:
Paperback (7/21/2017)
Description
A Lion That Walks has emerged in Kal'ada'abassa for the first time in an age. While some rejoice, others find his arrival disturbing. Far out on the Macca Deep, Basil chases down black ships as chaos erupts on the high seas. Onya Onoto, makes her way to the ancient city of Saladon, wondering what a once in a lifetime meeting of the Compact will bring. The Watchman, Cordovan, looks for a way into the Hallowed Place of Horrors in the hopes that Mino din' Darksbane still lives, even as their apprentices race headlong toward Palladawn carrying the most important message in the last three thousand years. From Al'akaz to Mees, a rising darkness reaches out from the shadows, spreading the tendrils of its influence like a pestilence across the Twelve Nations. Though these soldiers of the Light are spread across the known world, they are all faced with the same onslaught of a plague they cannot escape - a plague of shadows.
Gerald L. Coleman, 9780578503240, 624pp.
Publication Date: May 8, 2019