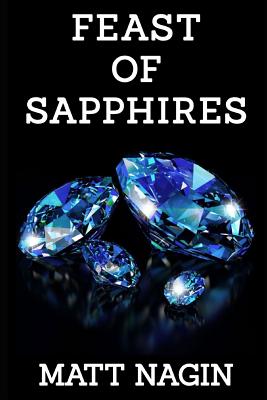 Feast Of Sapphires
Paperback

* Individual store prices may vary.
Description
The follow up to "Butterflies Lost Within The Crooked Moonlight," which Kirkus Review deemed "powerful verse from a writer of real talent," "Feast of Sapphires," has already been called "poetry of the highest quality" by Matt McAvoy. Jim Bennett, meanwhile, insists it is "highly recommended" and granted it four stars. One poem from the manuscript, "If We Are Doomed," won the 2018 Spirit First Poetry Contest Editor's Choice Award, out of thousands of submissions, and will be anthologized in a new book titled "Spirit First: 10 Years of Meditation and Mindfulness Poems." Thirteen other poems were previously published in such journals as Oxford Magazine, The Wire's Dream, and New Plains Review."Feast of Sapphires," is a compendium of a wide variety of poems, covering topics both timely and universal. There are poems of psychic revolution (for those ready to put down the Kool-Aid), poems about pretense and gun control, poems about MRI's, gambling, and mystical storms of all varieties; then, too, on a deeper level, more than a few of these poems are about the desire to surmount the collective facade in search of a kind of truth that cannot be hyperlinked.Located from Costa Rica to the LIRR, this metaphysical cartography of anticipation and despair is perfect for those seeking existential answers in the bottom of the tea, in the resonance of a thunder storm, or, even, in the ethereal high of a linguistic flight of fancy. From comedic monologues to existential reflections, from angry rants to insightful commentary, from wily narratives to verbal pyrotechnics, this is a book that aims to make you feel that, in these dystopian times, poetry is, more than ever, relevant and necessary."Nagin feels his work, writing it with gritted teeth, through a pen as sharp as a razor, and his cynicism is smart and infectious. Poetry of the highest quality."--Matt McAvoy, Matt McAvoy's ReviewsFull review: https: //www.mattmcavoy.com/my-blog/-feast-of-sapphires-by-matt-nagin"Nagin's work easily gets four stars. Highly recommended."--Jim Bennett, Jim Bennett Reviews (4 Stars) Full review: http: //jim-bennett.ca/?p=2072.
Burning Flower Press, 9780578508122, 102pp.
Publication Date: June 4, 2019