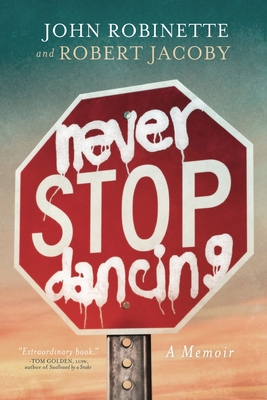 Never Stop Dancing
A Memoir
Paperback

* Individual store prices may vary.
Description
A story of grief, male friendship, and healing conversations.

"Be present," "cherish each day," "always say I love you." John Robinette lived those words. Or so he thought. Then his wife, Amy, was killed instantly in a pedestrian accident.

John's world shattered, and he began the grueling task of parenting two young boys in a house filled with vibrant, bittersweet memories. As the grief closed in around him, John's close friend, author Robert Jacoby, saw John struggling and proposed an unusual idea: to interview him over the course of the first year after Amy's death. Robert's hope was to meet John directly in his experience of sorrow, explore his grief with him, and discover what lessons might be learned.

Born of a year's worth of candid interviews, Never Stop Dancing avoids clich d takeaways about grief and healing to chart a deeper, thornier examination of loss and regret. Robert and John are transformed through their shared experience, too, emerging strengthened and with an abiding male friendship that cuts against the grain of pop-culture trends of quick fixes and easy answers. This memoir-in-conversation provides hard-won reassurances that one can and does go on after loss.
Cloud Books, 9780578524450, 246pp.
Publication Date: October 10, 2019