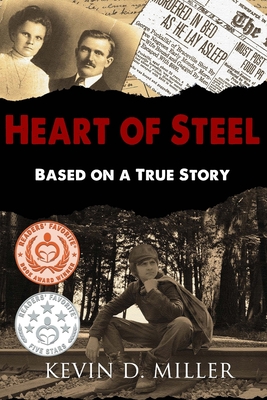 Heart of Steel
Based on a True Story
Paperback

* Individual store prices may vary.
Description
In the early morning hours of September 13, 1920, a tragic murder takes place at the Pulchalski farmhouse in Southington, Ohio. 12-year-old Stanley desperately runs along a dusty country road sent by his frantic mother to fetch the Sheriff. An infamous scandal unfolds over the next several weeks taking Stanley and his siblings on a harrowing journey through a notorious orphanage in Warren Ohio and an incredible attempt to escape. Finding true love is Stanley's only hope to finally come to terms with the torment of his tragic past. The story is based on true events in the life of Stanley William Miller. It inspires the heart on how a young man's devotion to his family pushes him beyond impossible odds and testifies to the perseverance of the human spirit. A murder mystery. An infamous scandal. A beautiful love story.
Editorial Reviews
Heartfelt Story of Tragedy, Hardship, but most of all Love
Heart of Steel is one of those books that leaves you an emotional mess after you turn the final page. This heartfelt story is written by the grandson of Stanley Puchalski/Miller and what a story it is. Kevin Miller pulls out all the stops and pulls no punches when telling it like it must have happened. Told with heartfelt love of siblings and their mother, he writes as if he were walking in their footsteps and we are walking with him. I was captivated by the detail and how he set each scene. Raw, gritty and at times a bit bloody, I could not put it down until I reached the very last page. And at that last page, I had tears in my eyes. This is a book for the ages and it leaves one wondering just how many similar stories might be ferreted out if one were to just ask the right questions and look in the right closets. Read Heart of Steel - you won't be disappointed.
-The Author Show - Linda Thompson
In this novel based on his family's history, Miller writes about his grandfather in a dramatic, vivid manner and a shifting third-person perspective. The author offers readers a fast-paced, cinematic tale that covers Stanley's travails-which include changing his last name to Miller at the age of 13 and working in a Chicago steel mill-rather than a sober, minutiae-filled biography.
-Kirkus Reviews
One day, author Kevin Miller discovered that his last name wasn't Miller at all; it was Pulchalski. His grandfather, Stanley Pulchalski, changed his name in an attempt to reinvent himself after a family tragedy. Heart of Steel will take you back to the early morning hours of September 13, 1920, when events were set into motion that would reverberate into the present. At once a murder mystery, family drama, and sweeping romance, this book based on a true story is well worth the read.
-Early Bird Books, MacKenzie Stuart
Heart of Steel is the true story of Stanley Miller and it is hard to find a more realistic tale that will touch you deeply. Kevin D. Miller has written of abuse, murder, prohibition, life on the farm, pain, suffering and joy with so much heart and feeling. I felt as though I was sharing a story with a friend and felt all of Stanley's emotional ups and downs with him. I cried, I laughed, I worried and I couldn't stop reading Heart of Steel because it is just a really good book. Heart of Steel covers so many genres and is good reading for the young, the old, male and female - just about everyone should read this book.
-Reader's Favorites Book Reviews, Trudi LoPreto
What results is an empowering narrative with very relatable characters and the full gamut of human emotions on display. Overall, Heart of Steel lives up to its strong, emotive title, and is certainly recommended for fans of historical family sagas and true to life tales of triumph over adversity.
-Reader's Favorite Book Reviews, K.C. Finn
R. R. Bowker, 9780578531618, 234pp.
Publication Date: August 10, 2019