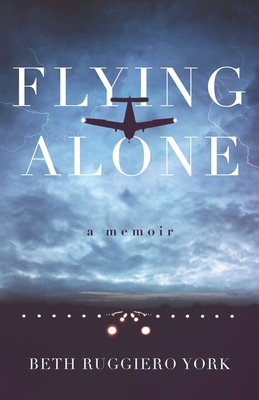 Flying Alone
A Memoir
Paperback

* Individual store prices may vary.
Other Editions of This Title:
Hardcover (9/10/2019)
Description
Strap yourself into the copilot seat and hold on for a ride you'll never forget.
Starting at the small local airport, the aviation world swallowed Beth whole, and the next five years of her life were as turbulent as an airplane in a thunderstorm, never knowing when, how or if she would emerge. An agonizing love affair with her flight instructor, dangerous risks in the sky and flying broken airplanes for shady companies all intertwined to define her road to the airlines, eventually being hired by Trans World Airlines in 1989. Flying Alone relives the struggles and the challenges of civil aviation that Beth faced 30 years ago.
Ultimately a story of survival and overcoming overwhelming odds, Flying Alone is told with soul-baring candor, taking readers on a suspenseful journey through terror, romance and victory. "Flying Alone" is "a memoir that reads like an adventure novel."
Beth is a former airline pilot for Trans World Airlines. She entered the world of civil aviation in 1984 shortly after graduating from college and, for the next five years, climbed the ladder to her ultimate goal of flying for a major airline. Beth originally wrote Flying Alone in the early 1990s, shortly after her career as a pilot ended and the memories were fresh.
Beth now has dual careers--Chinese translation and professional photography. She teaches photography workshops for Arizona Highways PhotoScapes and her own company, Ruggiero Images LLC. Beth has published a popular instructional book on night photography, Fun in the Dark: A Guide to Successful Night Photography, which has worldwide sales, and she has co-written a book entitled, Everglades National Park: A Photographic Destination. She and her husband live in Fountain Hills, AZ.
Beth's Books, 9780578544212, 246pp.
Publication Date: September 11, 2019