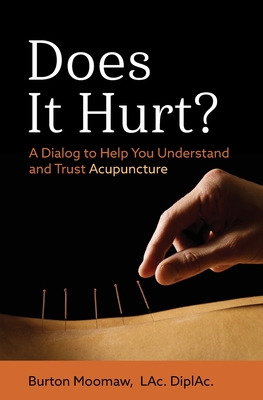 Does It Hurt?
A Dialog to Help You Understand and Trust Acupuncture
Paperback

* Individual store prices may vary.
Description
Get the answers you need to feel informed and confident in the proven health benefits of acupuncture.

Acupuncture is rapidly gaining acceptance in the modern medical world. The Department of Veterans Affairs now hires acupuncturists. There are thousands of private practices throughout the U.S., and even insurance coverage for treatment in some states. Acupuncture is most commonly known as an alternative treatment for pain, but it can also help with a wide range of conditions like depression, anxiety, digestion, infertility, and more.

In Does It Hurt?, Licensed Acupuncturist Burton Moomaw guides you through an introduction to acupuncture by answering the eight most commonly asked questions he receives from his patients, those considering acupuncture for the first time, and the simply curious. He includes medical theory, case studies, informative illustrations, a glossary, and a robust index.

Burton Moomaw LAc. DiplAc. is a practicing acupuncturist in Boone, NC. As a former professional rock climbing guide, Burton honed his skill communicating complicated ideas in simple terms to people in precarious positions. He brings that ability to this book, simplifying and demystifying the complex, ancient medical art of acupuncture.

TABLE OF CONTENTS

Introduction
Chapter 1 Does It Hurt?
Chapter 2 Where Will You Put the Needles?
Chapter 3 Does It Work?
Chapter 4 How Does Acupuncture Work?
Chapter 5 What Health Problems Can It Treat?
Chapter 6 How Many Treatments Will It Take?
Chapter 7 Do I Have to be on a Special Diet?
Chapter 8 How Do I Find an Acupuncturist?
Conclusion
Glossary
Index
Praise For Does It Hurt?: A Dialog to Help You Understand and Trust Acupuncture…
"There are many acupuncture texts from the classics to modern writings, but we've long needed this slender and accessible volume by Burton Moomaw for patients looking for an introduction to the concepts and context of acupuncture. Burton has answered his patients' (and prospective patients') questions from his years of clinical experience with grace and personality. The result is a real contribution to our field. I'm delighted to have this very readable book to recommend to the general public interested in our healing art."
- Ann Cecil-Sterman, Author, Advanced Acupuncture, a Clinic Manual
Does It Hurt Publishing, LLC, 9780578551203, 126pp.
Publication Date: August 15, 2019
About the Author
Burton Moomaw lives and practices in Boone, NC. He was drawn to study acupuncture after witnessing it support his wife's second pregnancy when she was struggling with hypothyroidism and infertility. He received a diploma of acupuncture from Jung Tao School of Classical Chinese Medicine in Sugar Grove, NC and now serves on the school's board of directors. His continuing education led him to study extensively with Jeffrey Yuen and Ann Cecil-Sterman to deepen his knowledge of the channels of acupuncture.

Burton was a founding owner of the rock climbing gear manufacturer Misty Mountain Threadworks and the first professionally certified rock climbing guide in the southeastern USA. He lives with his German-born wife of 30 years, Julia Rechenbach-Moomaw, and is the proud father of Lucas and Noah Moomaw.