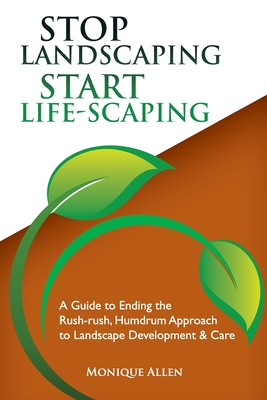 Stop Landscaping, Start LifeScaping
Paperback

* Individual store prices may vary.
Description
Are you craving a landscape that truly represents you and bridges your connection to nature? Are you overwhelmed with how to get there? Confused by all the gardening "how-to" books that don't seem to fit your style? Frustrated by projects not going as you thought?
In STOP Landscaping, START Life-Scaping, Monique Allen, landscape designer, contractor, and fine gardener, speaks frankly about why you become caught in a spiral of false starts and unsatisfying projects.
Through her stories, examples, and dozens of practical tips, Monique guides you on a journey to discover your unique landscape vision, with a realistic eye to your outdoor space and its possibilities. In these pages, you will discover:
Why systems-thinking is vital to your success.
How to picture your plan and assemble your construction team.
Why long-term care strategies must be an upfront consideration.
How to become a loving partner and steward of your land.
The landscape is your connection to nature and beauty. Nature is a lifeline to our inner peace and to the well-being of our communities. If you are ready to claim your Life-Scape and step into partnership with your land, this book is for you
Marabenn, 9780578619415, 250pp.
Publication Date: March 17, 2020