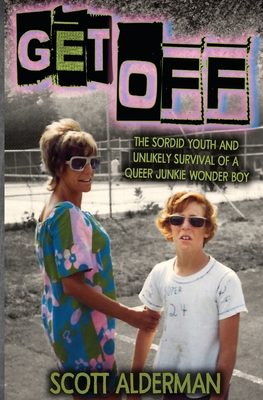 Get Off
The Sordid Youth and Unlikely Survival of a Queer Junkie Wonder Boy
Paperback

* Individual store prices may vary.
Description
Set against a backdrop of New York City in the grungy, glittering 1980s, "Get Off" is a memoir about desperate living, hidden promise, double lives, and the danger of getting too much too soon.

This eloquent, entertaining, sometimes absurdly hilarious book is a tale of how an anxious theater nerd from Long Island created and ultimately emerged from a hell of his own making.

Written as a testament for his young son, Scott Alderman's account of his wasted youth and hard-earned manhood will resonate with and inspire anyone who has been lost and struggled to find their way back.
Praise For Get Off: The Sordid Youth and Unlikely Survival of a Queer Junkie Wonder Boy…
"GET OFF is genuine and honest and powerful. The writing has incredible momentum and sustained movement, really conveying the velocity and chaos of the experiences; there's a real feeling of life happening. Even when the book veers into the extreme, the voice is open and matter-of-fact, which leaves the reader free to react. This is an intense and rewarding memoir."

- Vivian Heller, author of City Beneath Us
Createspace Independent Publishing Platform, 9780578644936, 158pp.
Publication Date: February 8, 2020
About the Author
Scott Alderman began working in the live music business in 1979, first as a roadie and stage manager in rock & roll, and then as road manager and agent for top jazz artists. In the eighties, he owned and booked Fat Tuesday's, a NYC Jazz club. After getting clean in 1987, he worked in human services as a counselor at Bailey House, a residence for homeless people with AIDS, and at psychiatric hospitals and methadone clinics in Washington, D.C. and San Francisco. In the nineties, his career included stints in management and operations, first at Lehman Brothers and then at Morgan Stanley. In 1998, he was on the management team that took a consolidation of national messenger and courier companies public. ​The turn of the millennium saw Scott return to the music business to launch the Tattoo the Earth festivals, which included an eighteen-city US tour. In 2001, after the law banning tattooing in Massachusetts was overturned, he produced the first tattoo festivals in the state. ​In the teens, he was the administrative director for the Program in Narrative Medicine at the Columbia University College of Physicians and Surgeons, and he is a founding director of the Center for Narrative Practice. ​Scott has a BA in literature and writing from Columbia University. He was born in New York City, and lives in Massachusetts with his wife and kid.