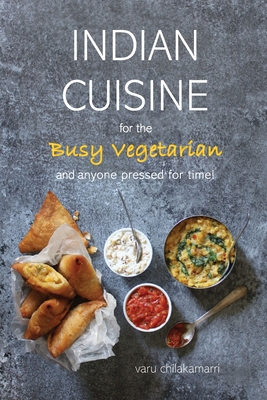 Indian Cuisine for the Busy Vegetarian
Paperback

* Individual store prices may vary.
Description
Indian Cuisine for the Busy Vegetarian is a practical and fun guide to cooking quick and easy Indian food. Unlike many cookbooks, these recipes do not assume that you've already peeled, chopped, and seeded everything in your kitchen before you've even begun Instead, this book offers short-cuts and time-saving tips to realistically fitting Indian cooking into your busy lifestyle. Whether it's the inventive use of flour tortillas to make samosas or a can of juice to make a one-ingredient tamarind dipping sauce, this book is your honest resource to having your curry and eating it too
Inside, you'll find recipes for quick vegetarian versions of North Indian favorites like "chicken" korma, chickpea curry, palak tofu, as well as South Indian dishes like sambar, rava dosa, and tamarind rice. And desserts are not an afterthought, with recipes that feature fast techniques for making gulabjamuns, carrot halwa, coconut rice pudding, and more With more than 60 user-friendly recipes-a majority of which are vegan-Indian Cuisine for the Busy Vegetarian is the new guide to simple and accessible Indian food.
Fenugreek Press, 9780578651880, 190pp.
Publication Date: August 11, 2020