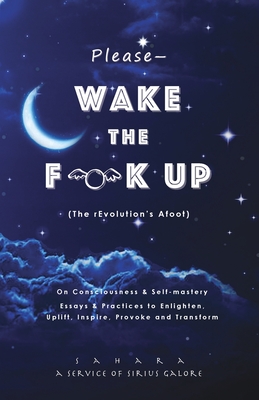 Please--Wake the Flock Up (The rEvolution's Afoot)
Paperback

* Individual store prices may vary.
Description
Open your eyes-open your mind-open your heart.
In this extraordinary moment in time-crippled by a pandemic, and united in grief and determination provoked by the latest wanton killing of a black man in America, we have the opportunity to create an unprecedented shift in the Destiny of humankind on Planet Earth.We're being collectively invited to "transform the fabric of reality for the well-being of All" by a seismic shift in Consciousness-
a shift in Consciousness-
that will precipitate a change of global proportions in how we behave as a species.We are being exhorted to "Wake the Flock Up" and understand that the change we wish to see 'out there' can ONLY come
from a change within each one of us.We have to recognize the necessity of transcending the personal
and begin to act as a single cell in the unified body of humanity-and realize that: when we change ourselves, we
are
changing the world, and that we
cannot
change the world
unless
we change ourselves.Two hours invested in the perusal of this work will initiate the change in you-and enable you to begin to change the world.Now is the time. YOU are the one who will make a difference: Please-change yourself & change the World.
At the end of the book, we're told:
"What we call 'enlightenment' is not complicated, or even mystical-it's just a simple shift in Consciousness. It doesn't require belief, just acceptance-but, of course, one cannot accept without belief unless one experiences, and one cannot experience unless one chooses, and acts. It happens one step at a time: yearning, choosing, doing.
There are three components to the process:
Identity-Who do you think you are?
Frequency-Vibrating above the 3D turmoil.
Self-mastery-Primarily, regarding thought (all else will follow).
Everything you need to proceed you are holding in your hands."
www.saharadevi.com
"Sahara's book is a perfectly-times, gritty New World manifesto that screams loudly to amplify humanity's higher octaves. Her authenticity as an international spiritual teacher shines through her plain-spoken tools for navigating the head-spinning velocity of our rapidly changing world. Sahara's immense Love for her fellow human family is eclipsed only by the stunning depth of the practical spiritual knowledge she has amassed over a life's work of Service-collected in a quick and easy 'how-to' read, for the purpose of uplifting all life on the planet. This handbook is the work of a Steward, and may the steward in all of us be inspired to awaken." Danielle Egnew, Psychic/Medium, Angel Translator, (NBC, ABC, CW, Travel Channel, Washington Post)
Service of Sirius Galore, 9780578665412, 156pp.
Publication Date: April 17, 2020