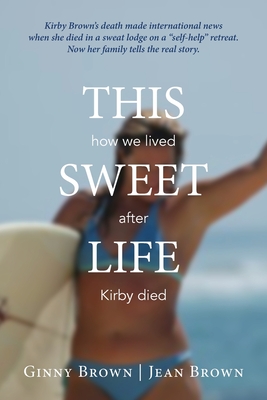 This Sweet Life
Paperback

* Individual store prices may vary.
Other Editions of This Title:
Hardcover (6/20/2020)
Description
You are about to take a journey that will spark your heart and soul, and most likely leave you speechless. After reading 2200 nonfiction books and working behind the scenes in the personal development industry for twenty-five years for Tony Robbins, Ginny & Jean Brown's, This Sweet Life is far beyond a must read. Gary King, author of The Happiness Formula
A beautiful, heart-breaking book that exposes the dangerous side of the self-help industry. It tells the story of Kirby Brown who died after being deprived of water, food and sleep and then put in a sweat lodge by James Arthur Ray, a man who was not qualified to run a sweat lodge, ignored pleas for help once participants were inside the lodge and left the scene immediately afterwards. Marianne Power, author Help Me ... One Woman's Quest to Find Out if Self-Help Really Can Change Her Life
It is two books in one since it alternates between a parent's and a sibling's perspective of their experiences and recovery process after the tragic loss of a family member. It also describes how they molded their grief into something positive, forming the Seek Safely Foundation to aid the public with information to avoid having this heartbreak happen to them or their loved ones. Connie Joy, author of Tragedy in Sedona: My Life in James Arthur Ray's Inner Circle
James Arthur Ray wrote his own memoir of what happened in Sedona, and it reads like a marketing tool- which is exactly what he intended. Ginny and Jean's book is vastly different from James's account, not just in perspective, but in the depth of its authenticity. In the end, this is not a book about blame. It's a book about responsibility. Their story is raw, honest...and, like Kirby, hopeful. Dr. Glenn Doyle, psychologist, author Wish I'd Known That
Kirby Brown was a seeker who lived a life of passion and adventure. When she and two others died in a sweat lodge at a self-help retreat on October 8, 2009, it shattered her family and friends. Kirby's mother and sister detail how they learned about Kirby's ugly death, struggled through their grief, and kept moving forward through the trial of the criminally negligent guru in charge, James Arthur Ray-international best-selling motivational speaker who had been featured in "The Secret" and on Oprah. Following the trial, the family founded SEEK Safely Inc., since all seekers are entitled to safe self-improvement journeys.
Even through their multi-layered grieving process, Ginny and Jean Brown wanted to live as Kirby did-with passion and love. In sharing their story, they offer an invitation into their private hell, an immersion in their grief, and a story of evolution after trauma.
Three Tomatoes Book Publishing, 9780578708799, 336pp.
Publication Date: June 20, 2020