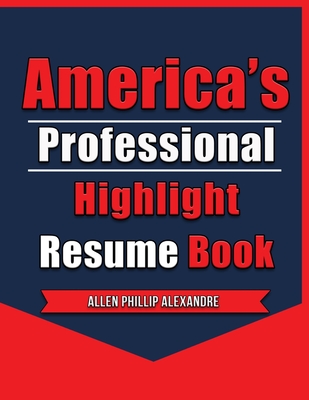 America's Professional Highlight Resume Book
Paperback

* Individual store prices may vary.
Description
The world seems to revolve around work whether it's to fulfill happiness, feed a family, meet career goals or travel around the world. Jobs are here to test our limits, and here for us to blast through barriers of finances, health and for some, overcoming depression. The belief that a job is essential, and good for the soul is quite vivid, serving one another to build an empire as we all call it, the World. Many people from different backgrounds experience work in multiple ways whether they are regular 9 to 5 consistent workers, business owners, students, incarcerated (pre, post or present), gaps in history, job transitioning, councilman and even NEVER WORKED. America's Professional Highlight Resume Book is tailored to meet all listed personnel needs, increasing interview as well as job attainment opportunities. If you are looking for a resume that will help you reach your career potential, you have chosen the right book This book will focus on providing informative detailed information on each section of a resume being: Header, Professional Summary, Qualifications, Work Experience, Education and Skill sets to meet employer satisfaction and build self confidence within.
Molding Messengers, LLC, 9780578770819, 32pp.
Publication Date: January 1, 2021