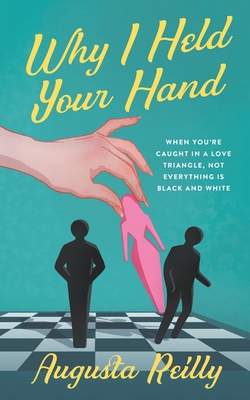 Why I Held Your Hand
Paperback

* Individual store prices may vary.
Description
The heat is high and the laughs are plentiful in this steamy romantic comedy by Augusta Reilly. Laura Delaney loves her small mountain hometown of North Powell with its quaint charm, stately Victorian homes and surrounding hiking trails. Unfortunately, when it comes to attracting travel dollars, it can no longer compete with the flashy hot springs and ski slopes of nearby competitors. That's why she hires a hotshot marketing team to figure out how to inject the old magic back into North Powell's sagging tourist trade. What she doesn't expect is for the team to include David Harper. Smart, funny, handsome, and amazing in bed, he's the perfect man. All she needs to do now is keep their relationship under wraps until the project is over. But that's easier said than done when she's assigned to work with Spence Markham, the company's offbeat "idea man" and David's professional nemesis. When Spence suggests hosting a Dickens Festival to revitalize the town's winter economy, Laura is thrilled. She's even more thrilled when Spence falls in love with Powell House, the dilapidated Victorian she hopes to turn into a town museum. But is Spence falling in love with Laura as well? Soon, what started as a simple assignment becomes a tale of two possible futures. But which one will Laura choose? ★★★★★ "Without exaggerating, Why I Held Your Hand is probably one of the best romance novels ever written." - Sara ★★★★★ "This book literally has it all Small town. Steamy romance. Love triangle. This book has the rom-com down like no other." - Danielle ★★★★★ "This is the sweetest book I've ever read. It's a beautiful love story about a woman in love with two handsome, gentlemen, funny and good lovers." - Lyn ★★★★★ "I laughed out loud, and I forced a friend to read along with me so we could discuss *several* scenes." - Hannah ★★★★★ "By the end I was full of anticipation and joy and I nearly cried." - Allieveryday ★★★★★ "How sad and wonderful and amazing to find love in two very different places . You can feel the pain each in each and every decision made between the lovers. A fine read." - Kris Kuebel ★★★★★ "From the first chapter I loved this book VERY STEAMY but also so very very cute I really enjoyed this one and it never had a lull or slow part to it." - Marissa Mariano ★★★★★ "Brava to Reilly for a fabulous romance that provides sizzle and love Very very believable and magic "- Andrea ★★★★★ "Reading this book is like eating my favorite sweet and spicy jalape o kettle chips, The first bite is sweet but then once you savor the chip it's got quite a bite to it." - Debbie Rozier ★★★★★ "A lovely read that I devoured in one sitting." - Stephanie Awad.
R. R. Bowker, 9780578773513, 274pp.
Publication Date: October 23, 2020