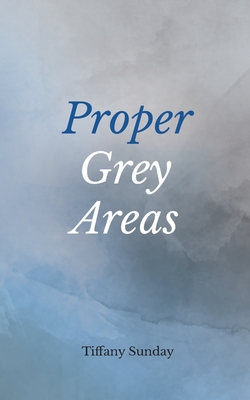 Proper Grey Areas
A Collection of Poems
Paperback

* Individual store prices may vary.
Description
Proper Grey Areas is the anticipated sophomore collection of poetry from Tiffany Sunday, author of Insatiable Consumption of Being and How Dyslexics Will Rule the Future.
Sunday's second volume of poetry is a powerful, eclectic collection of poems. This book belongs to many categories as readers navigate through emotionally charged themes of love, grief, abuse, equality vs. inequality, and pandemic-induced stress. Attuned to her craft, Sunday's piercing allegory and sophisticated use of lineation reflect the rawness of our emotions and the disruption of recent global events. Her use of metaphorical elements throughout her writing conveys meaning beyond the literal establishing Sunday as an important voice. Poems celebrating humanity and the simplistic beauty of nature are woven within the darkness, reminding readers to cherish the gift of being. The collection is accessible to anyone seeking self-reflection and solace.
Sunday's exploration into darker emotions offers a comprehensive picture of her distinctive writing signature.
Ties that Bind
Ties that bind,
suffocating,
defining sharp edges,
cut beneath,
my fingers.
Tiny pieces of glass.
Embedded.
Becoming part of my skin.
Scars dance across,
the open landscape of my being,
defiance,
resistance,
standing tall,
integrity intact,
solitude as one,
against the injustice of you.
Tilton House Press, 9780578790312, 108pp.
Publication Date: December 8, 2020