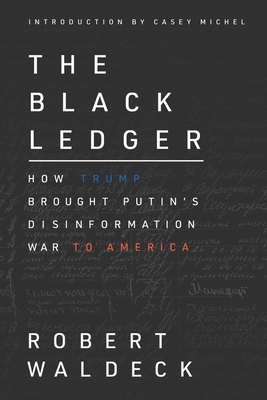 The Black Ledger
How Trump Brought Putin's Disinformation War to America
Paperback

* Individual store prices may vary.
Description
The Black Ledger chronicles the efforts of Donald Trump and Vladimir Putin to bring the politics of disinformation from Ukraine and Russia to America in the 2016 election, while also revealing the full story behind four years of political warfare as Americans prepare to vote again in 2020. This is the first book to offer a coherent narrative of the Russian interference campaign in 2016 and its Ukrainian sequel. It fully illuminates these events, and explains what motivated the key players-Paul Manafort, Putin, Trump and the Ukrainian figures pulled into American politics. From the Russian interference campaign to the Republicans' defense of the four Russia investigations to Trump's use of disinformation that led to his 2019 impeachment, The Black Ledger incorporates the most current information-such as the recent release of Volume 5 of the Senate Select Intelligence Committee Report. The book presents the never-before understood secrets of the saga of Paul Manafort, Donald Trump, and Vladimir Putin. In Ukraine, nothing is ever as it seems. In his meticulously researched investigation, Rob Waldeck examines the murky intersection where the Trump presidency collides with the world of Ukrainian-Russian political intrigue and corruption. Waldeck brings to light much of the backstory that contributed to the impeachment of Donald Trump. As this timely book suggests, that episode may be only the tip of the iceberg.-Linda Feldmann, White House Bureau Chief, Christian Science Monitor"Will be an absolute must-read for future historians, and for plenty of others who are still trying to figure out what the heck happened during impeachment, and how it all connected together."-Casey Michel, Journalist, author of the forthcoming AMERICAN KLEPTOCRACY.
Cobra Y Craneo, Inc., 9780578792880, 526pp.
Publication Date: October 29, 2020