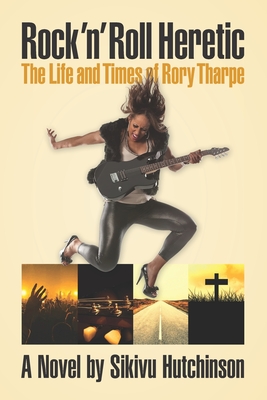 Rock 'n' Roll Heretic
The Life and Times of Rory Tharpe
Paperback

* Individual store prices may vary.
Description
It's the late 1970s, and ex-Pentecostal Black female electric guitarist Rory Tharpe navigates the cutthroat world of corporate rock, dive bars, dusk-to-dawn recording sessions, and shady contracts as she travels the nation in a dilapidated tour bus with her bickering, boozing all-male band. Much-imitated and little-credited, Rory is in a late career tailspin when she goes on tour with international superstar Jude Justis, a white woman blues-rock singer who has built a turbulent mega-platinum career out of stealing from Black musicians. Broke and frustrated by the racism, sexism, and ageism of the rock boys' club, Rory warily joins forces with Jude. She then takes a detour through the painful past she shares with childhood nemesis Divinity Mason Mulvaney, a maverick pastor at the helm of the mega church enterprise Revivals, Inc. A homage to pioneering guitarist Rosetta Tharpe, Rock 'n' Roll Heretic is a bracing look at the power politics, heartbreak, and hypocrisy confronting a queer Black woman visionary at the intersection of music and commerce, faith and heresy, in a segregated music industry that eats its Black artists.
Praise For Rock 'n' Roll Heretic: The Life and Times of Rory Tharpe…
If you love fearless, bold, unapologetic strong leads, then Rock 'n' Roll Heretic is for you. Paying homage to the great trailblazer Sister Rosetta Tharpe, this book is filled with twists and turns that will leave you rethinking rock music as you know it. Sikivu, you have created a masterpiece that will challenge history and entertain readers for years.
—Malina Moye, electric guitarist, international recording artist, and co-founder of the Drive Hope Foundation

Rock 'n' Roll Heretic is a powerful, unflinching, unforgettable, wild ride journey into the struggles a vigorous Black queer woman artist endures to survive in an industry that does not want her there. Every daunting step Rory takes towards her rock ambitions leads her further back to a haunting childhood and Pentecostal past. On the edge of defeat, her trusty guitar is the armor that guards her sanity, allowing her to break through the "isms" that threaten to overshadow her contributions to Rock 'n' Roll.
--Samantha "GhettoSongBird" Hollins, Rock 'n' Roll singer-songwriter-guitarist

Infidel Books, 9780578852362, 340pp.
Publication Date: March 6, 2021
About the Author
Sikivu Hutchinson is the author of Imagining Transit: Race, Gender, and Transportation Politics in Los Angeles (Lang, 2003), Moral Combat: Black Atheists, Gender Politics, and the Values Wars (Infidel Books, 2011), Godless Americana: Race and Religious Rebels (Infidel Books, 2013), the novel White Nights, Black Paradise (2015), on Black Women, Peoples Temple and the Jonestown massacre and Humanists in the Hood: Unapologetically Black, Feminist, and Heretical (Pitchstone, 2020). She is also the author of the plays Grinning Skull, Narcolepsy Inc, and White Nights, Black Paradise