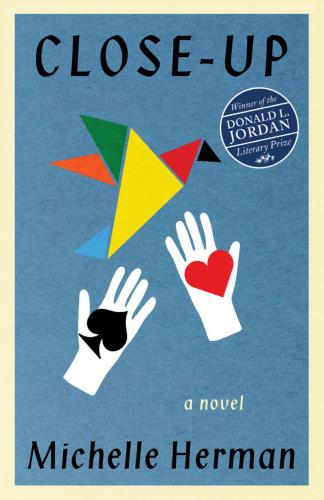 Close-Up
Paperback

* Individual store prices may vary.
Description
Close-Up artfully renders how the lives of a successful young magician and his father, a famous novelist, intertwine with the lives of an aspiring poet, her mother, and the poet's mentor. In this robust, expansive novel, we follow Jacob, Martin, Caroline, Jeanie, and Jill as they experience rifts and reconciliations, struggling to make sense of themselves and each other. This is a family story only Michelle Herman could write: of missed connections, old grievances, loneliness, longing, and redemption.
Praise For Close-Up…
In her captivating new novel Close-Up, Michelle Herman unfolds a complex family history in which abandonment has caused painful estrangements and unexpected alliances. With subtle wit and unshakeable confidence, Herman demonstrates the alternating forms a family can take: a refuge, a prison, a solace, one at a time or all at once, and right before your eyes. Close-Up is a magic act of a novel, and not just because its main character is a magician.
––Valerie Martin, author of Property and I Give It To You

You enter into this intricate, eye-poppingly lucid dream of a book, REMing along the pages that are rigged for running the clearest of clear window written styles. Herman is a master of artful artlessness, and that is no mean feat. She constructs this substantially potent, packed with power of this ever-present very present narrative with an invisible scaffolding of a nonchalant conjurer. How did she do it? It doesn't matter. It is so deftly done.
––Michael Martone, author of The Complete Writings of Art Smith and The Bird Boy of Fort Wayne

Michelle Herman's book is one of those books I read in the full belief that its characters were real. There isn't
any way Caroline and Jacob don't exist—their buoyant conversation, their predicaments, their struggles to grow up whole and sane in the company of their infuriating parents are too alive on the page to be merely constructed by this canny and sophisticated, tough and tender author. Her novel is both wise and smart.
––Rosellen Brown, author of Before and After, Tender Mercies, and The Lake on Fire

Columbus State University Press, 9780578905280, 376pp.
Publication Date: March 15, 2022
About the Author
MICHELLE HERMAN is the author of the novels Missing, Dog, and Devotion and the collection of novellas A New and Glorious Life, as well as three essay collections--The Middle of Everything, Stories We Tell Ourselves, and Like A Song--and a book for children, A Girl's Guide to Life. She writes a popular parenting column for Slate and has taught creative writing for many years at Ohio State. She lives in Columbus, Ohio.